Quick Dish LA: THE BUSINESS LA Ten Year Anniversary Show TONIGHT at Little Joy
TONIGHT The Business Los Angeles celebrate 10 YEARS of bringing farm fresh comedy to the people. Down below you can see Alex Koll's comprehensive image including all the cheery mugs of comics that have hosted the show over the decade. That's quite a talented bunch! TONIGHT at Little Joy, your celebratory lineup includes these pasts hosts and faves:
Guy Branum
Beth Stelling
Alison Stevenson
Chris Thayer
Jules Posner
Caitlin Gill
Alex Koll
And featuring the current Biz Gang of
Chris Garcia
Sean Keane
Bucky Sinister 
& Anna Seregina
Hosted by
Megan Koester
Enjoy this delicious omelette of your favorite "pre-tech bubble SF" inspired jokesters! Can you tell I haven't eaten yet? GO with a full stomach, dammit!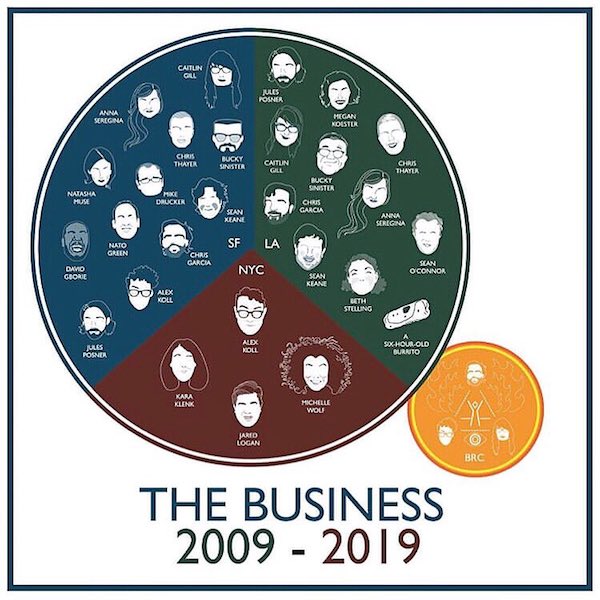 Mentions: Show starts at 9pm. #FREE as always! Come early (8:30pm. suggested) to get a seat and the last half hour of happy hour! Little Joy is located at 1477 W Sunset Blvd., LA, CA 90026. Don't miss the show EVERY Monday!