Quick Dish NY: DEEP NIGHT with DALE SEEVER Live Season Finale TOMORROW at The Slipper Room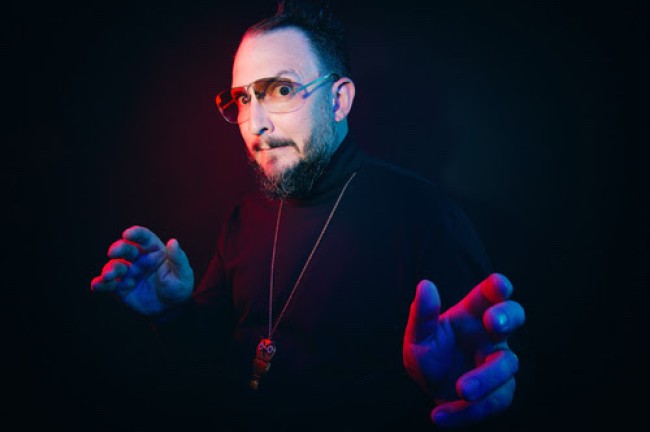 TOMORROW at The Slipper Room, your black turtleneck sporting, potion peddling, aspiring wellness guru and conversationalist DALE SEEVER (James Bewley) welcomes another engaging panel of guests for the LIVE season finale of DEEP NIGHT. Dale invites his legion of fans to join him in exploring the enlightening, comedic spirit of the cosmos as he picks the minds of his guests. Tomorrow's panel includes:
actor Griffin Newman (The Tick)
comedian Emmy Blotnick (Late Show with Stephen Colbert)
actor Lindsey Broad (In The Dark)
rapper and performer Sammus (The New Negroes)
music on the theremin by Cornelius Loy and dance from 96B Dance Theatre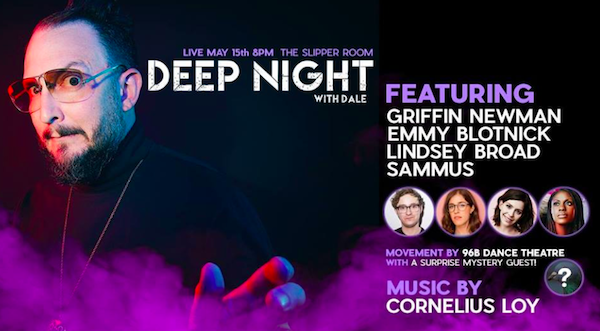 Dale has appeared across the country at many a bar, basement and comedy festival, and promises to convert you TOMORROW evening. Bow before the magical owl amulet, friends! For no particular reason, we'd like to inform you that James Bewley began his sketch career in SF, trained at the UCB in Los Angeles, and has been spreading mirth across the NY scene for the past ten years. You have seen him perform on Running Late with Scott Rogowsky, the current season of The Special Without Brett Davis on cable access, SF Sketchfest, New York Comedy Fest, Hell Yes Fest, Joe's Pub, SOLOCOM, and ANT Fest At Ars Nova. Transfixing the audience with comedy, crystals, and general nerddom, TOMORROW's event should be a piece of cake for your seasoned host. Enjoy!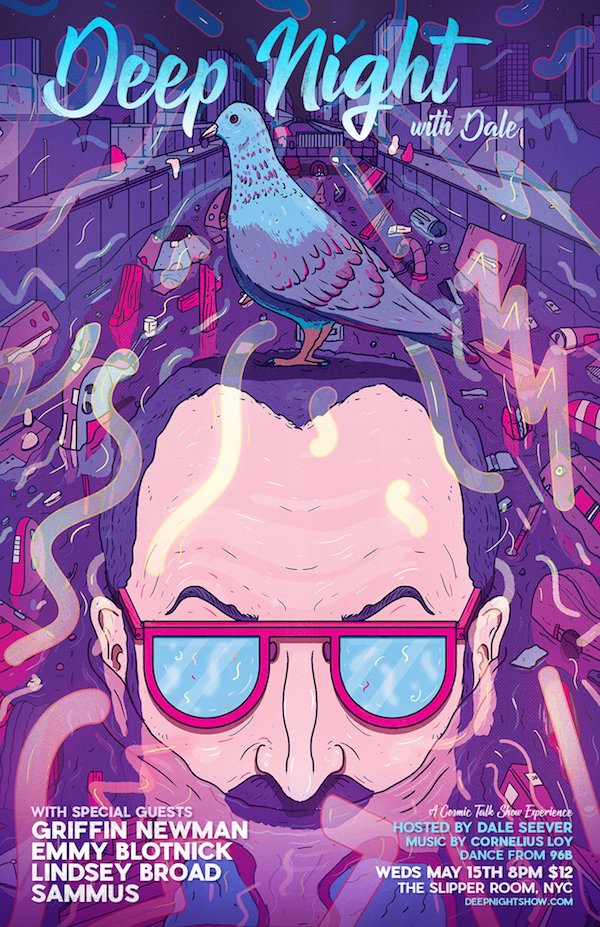 Mentions: doors at 7pm, show at 8PM. $10 (online advance) / $12 (at the door) / $25 (reserved seating). 21+. The Slipper Room is located at 167 Orchard Street, NY, NY. Watch HERE. Enjoy weekly podcasts and live shows every other month. More info at www.deepnightshow.com