Video Licks: Have Some "Meaty" Laughs with A New Episode of THE NEXT DOOR HORROR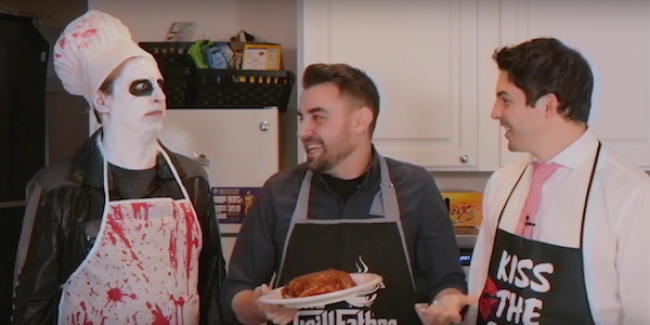 Hope you had a good 4th of July celebration, fitting in some horror flick streaming for good measure. It looks like Demonic Dan and Gabe took a "Wrong Turn" when they invited a local and very jilted butcher to watch a cannibalistic horror flick. Well, at least said butcher fits into THE NEXT DOOR HORROR's new format of a Martha Stewart style entertaining and lifestyle show. Not only will you learn a new recipe, but you'll learn Dan's trick for getting out pesky stains. Oh wait, that's not a stain! Looks like Gabe's kid's gone mental again. Oh jeez. Lock all the doors! Enjoy JEALOUS butcher watches Wrong Turn!
This episode stars Dan Burt, Gabe Sanchez, and guest Mike Perkins.
Mentions: Watch more criminally good episodes of THE NEXT DOOR HORROR show HERE.