Quick Dish LA: ALL MY SINGLE FRIENDS 'Hot Town, Single in the City' Show Tomorrow at The Copper Still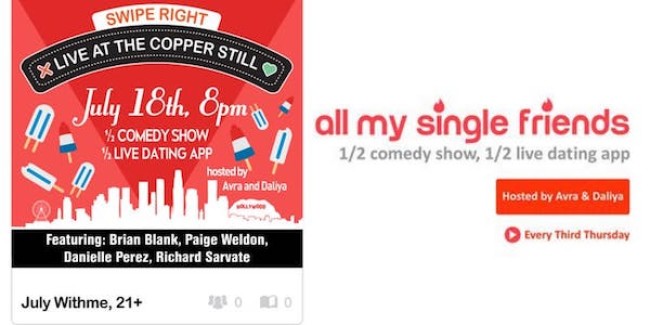 Happy middle of the month, kids! As the temps increase, it's time to head outdoors and then quickly back inside again. TOMORROW All My Single Friends invites you to abandon those sweltering temps and fruitless swipes, elbowing with real life singles (& single allies) while enjoying a mighty hilarious comedy show. Join this lively bunch for plenty of entertainment tomorrow at The Copper Still:
Danielle Perez
Richard Sarvate
Brian Blank
Paige Weldon
OK, now back to baby powdering that chafe-prone skin, hotties!
Mentions: Doors at 8pm, show at 8:30pm. Tickets HERE. Code HOT for $10 tix. The Copper Still is located at 4485 Beverly Blvd, Los Angeles, CA 90004.