Quick Dish LA: THE BUSINESS As Usual TONIGHT at Little Joy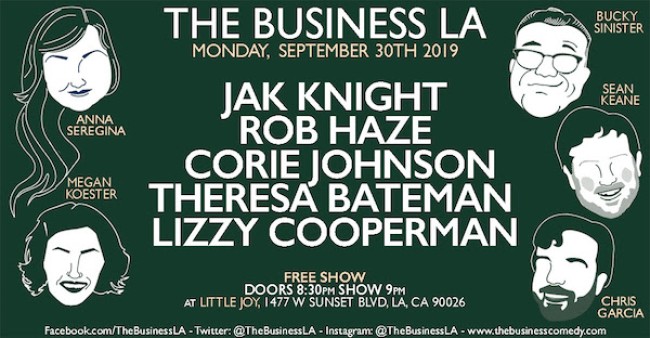 Anyone feeling like Gary Numan in a red jumpsuit singing in the middle of a glowing pyramid this morning? I think we've all felt that way getting stuck in LA traffic. TONIGHT brave the mean streets for another enticing installment ofTHE BUSINESS Los Angeles. The standup legacy continues with another thrilling lineup hosted by Megan Koester. Check it out:
Jak Knight
Rob Haze
Corie Johnson
Theresa Bateman
Lizzy Cooperman
Featuring The Biz Gang: Chris Garcia, Sean Keane, Bucky Sinister & Anna Seregina!
See, your blood is pumping already. Crank up the synthesizers in your head and head out Echo Park tonight!
Mentions: Doors at 8:30p, Show at 9p. FREE! Little Joy is located at 1477 W Sunset Blvd., LA, CA 90026.