Quick Dish NY: I CAN'T MAKE THIS UP Practically Unbelievable Storytelling & Convos 11.9 UCB at SubCulture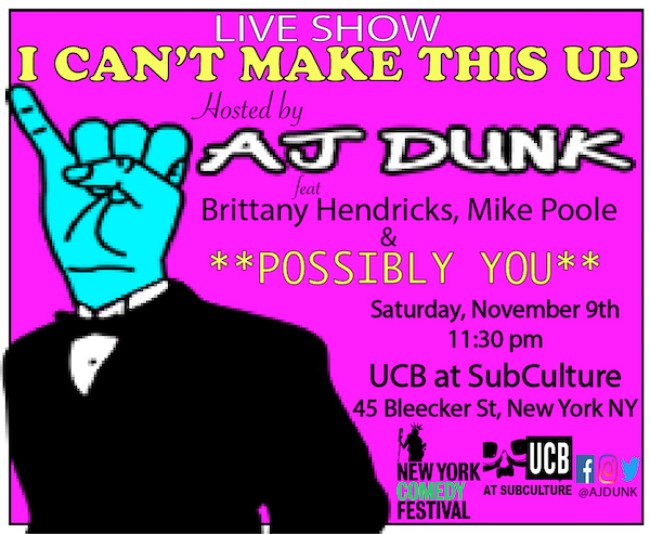 The goal of AJ Dunk's I Can't Make This Up comedy show is to give guests with unique experiences a platform to share stories that just happen to be unbelievably true. In this case, life is indeed stranger than fiction, kids! Your host will use his comedic improv and intrinsic conversational skills to engage a talented panel into breaking stereotypes via stories that just can't be made up. You have may seen AJ showing off his hosting/comedy skills at places like The Academy at UCB NY (Upright Citizens Brigade), Story Pirates, and more! Next month's esteemed panel will include
Event Coordinator, Brittany Hendricks
Writer and Comedian, Mike Poole
PLUS someone from the audience… POSSIBLY YOU!
The topics of conversation at ICMTU have included stories from rooftop parties in Brooklyn to a man on a quest to reunite with his crush to young adults driving their rental car right into the shores of Miami Beach during Spring Break. You know, your run-of-the-mill cocktail fare. Come inside AJ Dunk's world Saturday, November 9th and leave with a story or two to pass on to your unassuming friends!
Mentions: Show 11pm. Tickets HERE. SubCulture is located at 45 Bleecker St, New York NY.