Quick Dish LA: ALL MY SINGLE FRIENDS "Pecan You Feel The Love Tonight" 11.21 at The Copper Still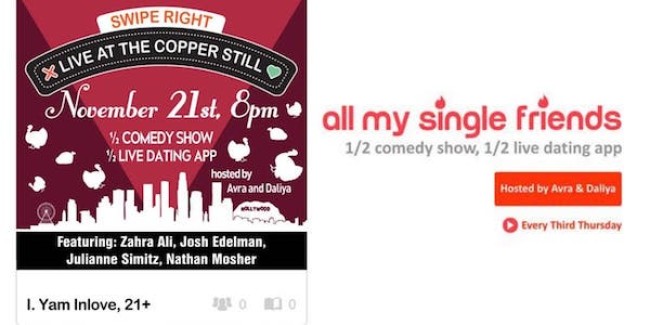 Not only is it the season of copious pies, it's also that time of immense loneliness spawned by your relatives telling you, "you need someone in your life." Well, do YOU? I'm not going to answer that question for you, but I am going to not so subtly suggest you go to the non-committal singles event called All My Single Friends. This shindig is half comedy show and half live dating app, and all heart. If you are sick of all the damn swiping and griping, plant yourself at The Copper Still November 21st for one heck of a good time. Not only will LA's hottest up and coming comedians be there entertaining you, but you could just get the added bonus of finding that someone worthy of companionship. This month's show features these entertainers:
Zahra Ali
Nathan Mosher
Josh Edelman
Julianne Simitz
Give your relatives a tiny glimmer of hope and laugh while you are at it! GO!
Mentions: Doors 8pm, Show 8:30pm. $15 cover. The Copper Still is located at 4485 Beverly Blvd., Los Angeles, CA 90004.