Quick Dish LA: FEMMES THE RULES 1.16 at Lyric Hyperion Theater & Cafe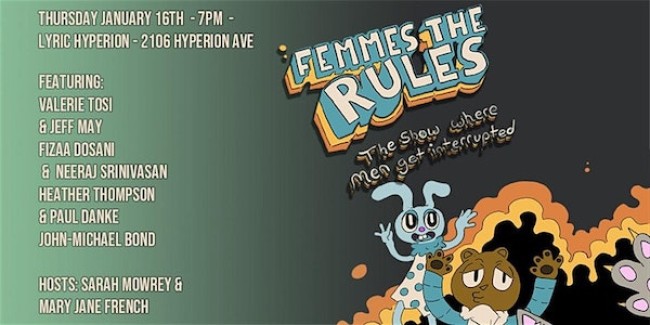 The holiday and New Year season is in full swing, but it's time to think past that. You should have your sights set on how you will be fulfilling your FUTURE entertainment needs! (We all know how hard you'll be working in 2020, right?!) If you happen to be spending your time in Los Angeles, may we suggest attending January's Femmes The Rules show. Join Mary Jane French (Thrillist) and Sarah Mowrey (The Drop Comedy Club) as they flip the convention of the standard standup show. Male comedians are paired with female (or non-binary) comedians. During the male comedian's set, the female comedian he's paired is free to interrupt at will with commentary, riffs, and humor jabs. Once the man's set is done, the woman does her set and, wait for it… the man must sit quietly and watch. Blink. Yes, it's true! It's all light-hearted fun and a sure to be laughter riot among friends. The January 16th show will feature:
Valerie Tosi (Conan) & Jeff May (Sideshow's Side Show)
Fizaa Dosani (Dear White People) & Neeraj Srinivasan (Portlandia)
Heather Thomson & Paul Danke (MTV).
with comedy from resident ally John Michael Bond (Flophouse)
Be there with your knitted caps on! We're freezing out here!
Mentions: Show 7pm. $5 Tickets HERE. Lyric Hyperion is located at 2106 Hyperion Avenue, Los Angeles, CA 90027.