Quick Dish NY: TRUE BLUE Aussie Comedy 1.26 at Caveat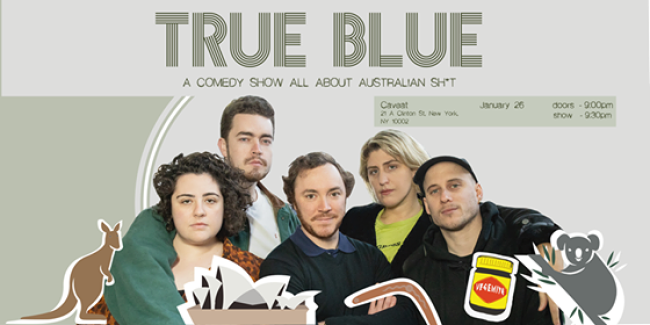 If the only Australian comedy you know about are Crocodile Dundee and Tim Minchin on The Great British Baking Show, then it's time to expand your horizons. Sunday, January 26th at Caveat, instead of ordering Vegemite on Amazon, enjoy an evening of amazing Aussie comedians serving up a taste of their home country. Comedian JESS FUCHS and her mates will give you the 411 on life down under, including "fairy bread tutorials, slang-offs," music, and, of course, comedy! TRUE BLUE: An Aussie Night Out will not only introduce you to a whole different culture, but do some good as well. Proceeds from the event will assist those suffering during the horrible bushfires across Australia. Don't miss out!
Mentions: Doors 9:00 PM, show 9:30 PM. Tickets $12 in advance, $15 at the door. 21+. Caveat is located at 21 A Clinton Street, Manhattan. Pictured in image Jess Fuchs, Nick White, Jimmy HVD, Joanna Cox, & James Coburn.