LAYERS: It's All About The Confidence (& Those 'Fierce Bangs') in ATSUKO OKATSUKA's Debut Comedy Album "But I Control Me"
As I choke on my homemade keto bread, I am so excited to announce that TODAY comedian ATSUKO OKATSUKA'S debut standup album "But I Control Me" drops via Comedy Dynamics. I feel an extra bit of satisfaction having listened to it because I unpacked it like I would an Advent calendar. It arrived in a jumble of randomly organized bits, and it was my destiny to search for the correct order. Once I'd pieced it all together, the result was a giddy, ascending unboxing of hilarity. Hashtag blessed!
If it wasn't evident from the title, Atsuko's comedy is brimming with confidence, which isn't surprising because this is the woman who smoothly fit an actual earthquake into a set. Truth! She's also the same woman who will consistently dance up a storm on her socials, including her grandma and husband into the mix at every opportunity. They both get a mention on the album, and we are treated to a deeper look into the comic's psyche to boot. Just some of the things you'll learn about the comedian on this album are: she's a half Taiwanese and Japanese 30-something whose parents met on a Japanese dating game show, she's an LA renter who may have haphazardly licked a tiny dog on a walk, she's tried cosplay to solve an existential crisis, she's left the house as the woman who broke up the band, she can spot the guy with a peanut allergy in a packed fuselage of people, Chipotle napkins serve an important dual purpose in her life, her sweatpants may be the secret source of her power, she loves newborns (but doesn't want to raise them to be jerks), and there's someone in her neighborhood (not a Paul Rudd in "Living with Yourself" clone) who shares Atsuko's first name and can now tell the world Atsuko made a joke just for her. See, you are practically friends after that description!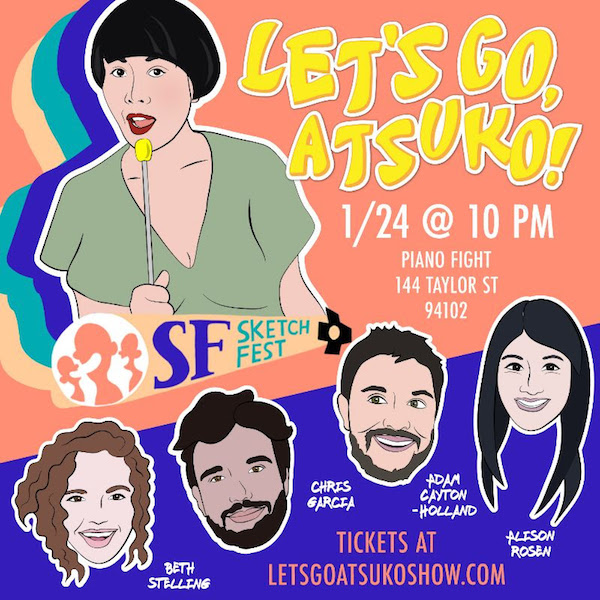 Now that you know Atsuko a little better, let's get to the meat of this review. Atsuko's standup demeanor is calm, cool, and collected. She delivers jokes and stories with the greatest of comfort, almost as if she was born to do this. (She was.) Her content can be "family friendly," but, luckily, she's a rule breaker who takes the audience to places they would not expect. Case in point, her final bit about her and her husband's intimate life/workout routine. You will never see a plastic bag of oranges the same way again, folks. More of my favorite tracks on the album demonstrate Atsuko's ability to ride that line between nice and naughty. On the track, "The 2nd Coming," she jokes about exactly how long you should have to wait for a Messiah to come back to Earth before considering him missing. During the bit, she mentions that someone was offended by the bit at a college gig of hers. Of course, that sensitivity didn't deter her from continuing to tell the joke and she takes the joke to a place above and beyond reproach. The audience is left thinking that maybe it wouldn't have been such a bad idea if the big J had made a point of saying "I'm not coming back for a really long time." Food for thought!
"Film school is a lot crazier than being gay" is my other MUST LISTEN track choice. Atsuko uses her film school experience to point out there are parents out there kicking out their kids for being gay when, instead, they could be have to be forking over 120k to attend a school where their kid struggles "to set up a shot of a stupid tree for his film thesis" just to see "Detective Pikachu crushing at box offices" later. Now that's a dose of wisdom served up on the back of a squeaking, Pokémon yellow critter. Brilliant!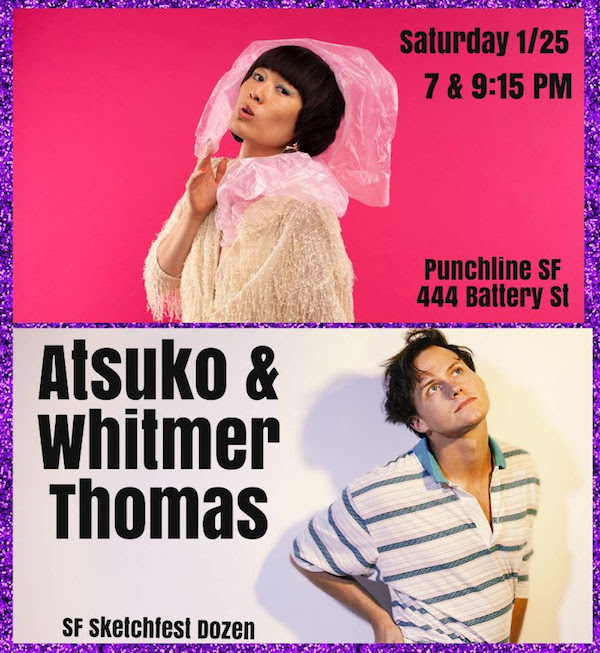 Go fork over those hard earned dollars (you may have earned competing on a Japanese game show) and invest in some Atsuko Okatsuka comedy! It pays in laughter dividends.
Mentions: Pick up "But I Control Me" HERE. See Atsuko's woke comedy game show "Let's Go, Atsuko" for SF Sketchfest 1.24 at Piano Fight. Also, see Atsuko & Whitmer Thomas 1.25 7pm & 9:30pm at Punchline SF. More ATSUKO info at http://www.atsukookatsuka.com. Follow her on Twitter & "fierce bangs" on Ig.