Quick Dish NY: 'BJORK Presents BREAD' with Natasha Vaynblat 2.2 at Union Hall
Björk Guðmundsdóttir OTF, otherwise known as BJORK, is a multifaceted entertainer and individual. The career of the Icelandic singer, songwriter, record producer, actress, and DJ has spanned decades now, and it doesn't seem that she'll ever run out of wild ideas. This SUNDAY, February 2nd at Union Hall, come see the unconventionally supreme leader of the eccentric opine on her favorite topic: BREAD! No, we're not talking the Benjamins kind, but the one you can smell baked fresh a mile away. Joining our deep thinker (Natasha Vaynblat) at BJORK Presents: BREAD will be NYC performers:
Mary Beth Barone (Comedy Central)
Katie Hartman (Netflix)
Girls With Brown Hair (A.V. Club)
Saurin Choksi (Brown Privilege)
Dylan Adler (New York Comedy Festival)
If you were wondering what that OTF title represents, apparently, it is the "Order of the Falcon," bestowed for "merit for Iceland and humanity." Chivalry is not dead! Well, technically, it's not dead in a freezing cold nordic island country. OK, now with bread infused in my brain, I'll go grab a sandwich. Also, enjoy your gluten rich evening!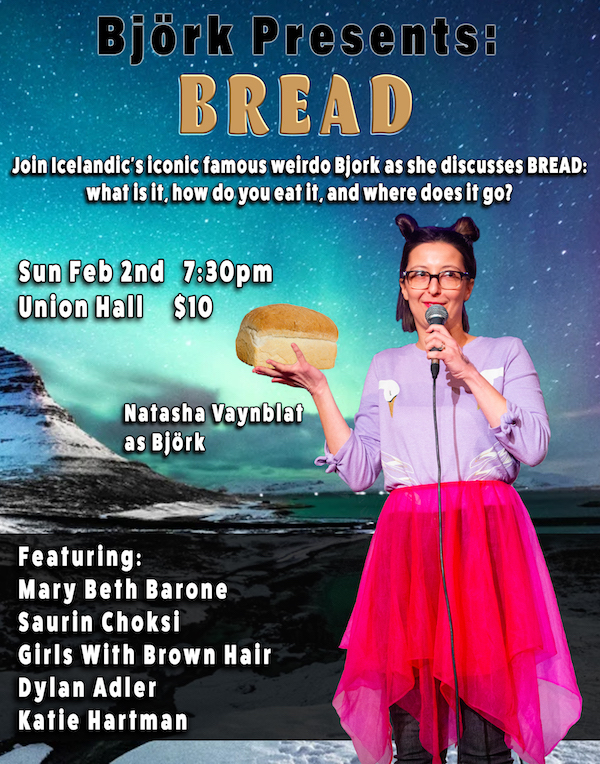 Mentions: Show 7pm. Tickets HERE. Union Hall is located at 702 Union St., Brooklyn, NY, 11215. Feature image by Tim Bierbaum. Follow Natasha on Ig because she's a gem. Follow @baguettemenots for no particular reason.