Quick Dish: RISE UP and Cheer for Comedy this Tuesday 6/10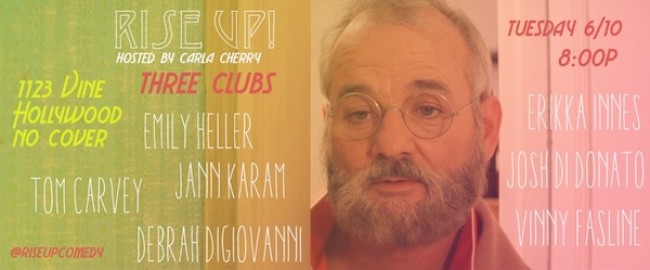 Check out one of Hollywood's best drinking establishments and enjoy some comedy this Tuesday evening, June 10. RISE UP COMEDY is back for another glorious night of FREE entertainment complete with tasty taco truck. Behold the KILLER laugh train:
Emily Heller (Conan, Chelsea Lately, Comedy Central)
Jann Karam (Seinfeld)
Debra DiGiovanni (Just For Laughs, Canada's finest)
Vinny Fasline (Socially Awkward)
Erikka Innes (Sex With Nerds, Grand Theft Audio)
Tom Carvey (Flappers, Ventura Harbor Comedy Club)
Josh Di Donato (Comedy curator: We Have A Hammock)
Hosted by Carla Cherry
Consider yourself informed. Now only YOU can provide the laughs. Support live comedy!
Mentions: Show 8pm. FREE! Three Clubs is located at 1123 N. Vine (& Santa Monica). Hey, Bill Murray is on the poster so it HAS to be good.