Tasty News: Dream Monsters, Cryptids & A Super Creepy Hotel in A New Episode of BIGFOOT COLLECTOR'S CLUB
If you are still in the podcast celebration mood after International Podcasting Day this week, then you are in luck! I should mention that my day started with the very opposite of luck as a (larger than I can tolerate) spider unceremoniously rappelled down from the doorframe to let me know the creepiest month of the year has begun. Hey, what can I say? Sometimes, 8-legged anthropods can be real jerks about their notifications. OK, back to OCTOBER and podcast fright! BIGFOOT COLLECTOR'S CLUB CLUB has dropped their first Halloween-friendly episode of the month including terrifying tales from the Zombie Bigfoot's Cryptid Crypt. Episode 132 features host Michael McMillan, co-host/producer Riley Bray (filling in for Bryce Johnson), and guest/comedian Nick Wiger (Dough Boys, How Did This Get Played?) getting into a hearty, brain-probing discussion.
BCC 132 – "The Cecil Hotel" w/ Nick Wiger!
During the episode, we learn about Nick's fascination with the horror-based video game genre, more specifically one that include baby screams and BTs (Beached Things). I'll let YOU guess the game title. We also find out about Nick's (and Michael's) frightening experiences with sleep paralysis. For Nick these involve "hulking silhouettes" and "golden specters," while in Michael's case, there was an episode so disturbing he found himself shivering in a bathroom during a Moroccan filming stint after he saw a version of him standing over himself, in bed covered in blood. Fun! (If only they'd learned of Wes Craven solution earlier!)
The sleep paralysis banter goes even deeper as the guys unearth Jacques Vallée's thoughts on the subject, a link to Simulation Theory, plus a stacking of theories now known as the Wiger Theory. (I don't know about you, but I'd appreciate landing in just ONE cool place when plummeting down a cliff in my own night-scares). As is customary for the show, Wiger is then put through a round of "Bullsh*t or Believe It." In this case, it's, of course, a spooky Halloween edition of the game. Nick's answers mostly fall in the skeptical but open range, which probably means the comics always thinks before he leaps, but it's not going to win him points with the witch and astrologies communities. Sowry!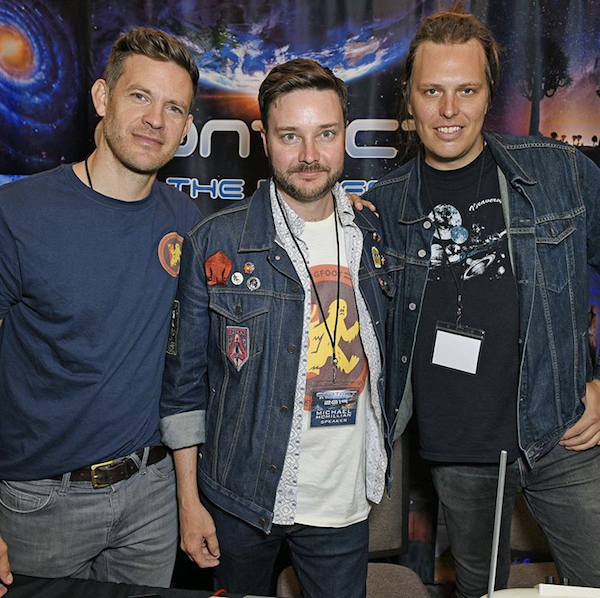 Because it wouldn't be October without a terrifying tale from the "Cryptid Crypt," the listener is treated to a very LA-focused tale revolving around the history of The Cecil Hotel, also known as "The Suicide." Plummeting into decline after the Great Depression, the hotel has been frequented by many unsavory characters over the decades. Joining in the laundry list of ill-fated events that have brought an evil eye to the seemingly doomed established, are infamous serial killers like Richard Ramirez and Jack Unterwegs. A more contemporary news story related to the hotel that the episode digs into is the mystery of Elisa Lam, a woman who's fate is now forever linked to this nightmarish establishment. If the elevator video footage of the woman didn't have you nervously scratching your head, I don't know what will.
If you breeze through this episode, as I did, may I suggest including BCC 131, "The Mogollon Monster," in your October weekend podcast bingeing. Travis McElroy (My Brother, My Brother & Me, The Adventure Zone) joins Michael and Bryce for a look back at Travis' West Virginian experience living in the times of the Satan panic. After everyone's favorite "Darth Vader of religion" gets his BCC moment, you are treated to Travis' personal paranormal history involving Nessie, those shared feelings of uneasiness, and possibly the most hilarious werewolf encounter story I've EVER heard. Of course, it wouldn't be a Bigfoot Collector's Club episode without a "Story of High Strangeness" and this one's a doozy. Bryce brings listeners Arizona's legendary, red-eyed, McElroy described "Canyon Monkey," THE MOGOLLON MONSTER! Wow, you sure do have quite a treasure trove of episodes to dig your gnarled teeth into. Happy listening!
Mentions: Listen to more episodes of Bigfoot Collector's Club on Apple Podcasts and Campfire Media. To support the show and unlock new bonus episodes every month, check out BCC: THE OTHER SIDE on Patreon. Follow the pod on Instagram.