Quick Dish Quarantine: Experience New Stand-Up with MARIA BAMFORD and Guest Jackie Kashian 2.27 Online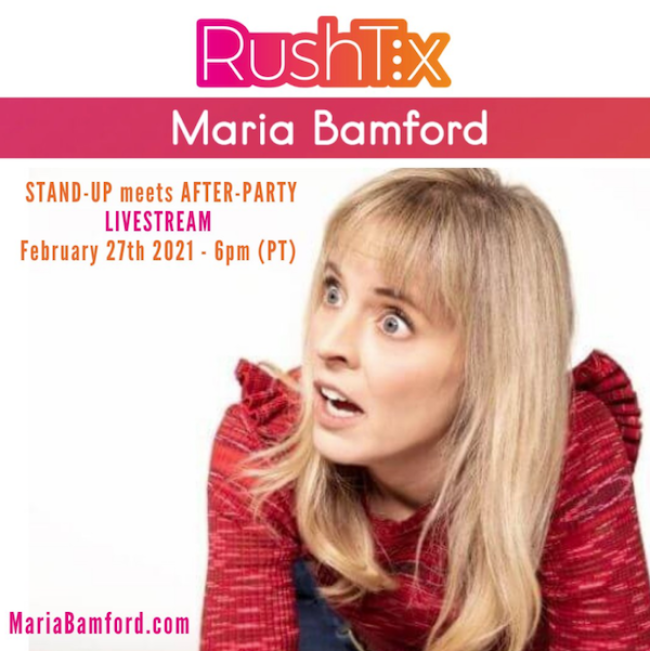 Do you miss that rush of being surrounded by real laughter at a comedy show? Do you miss people in general? Do you wish you didn't have to leave the house ever again? Well, you are in luck! Saturday, February 27th, join comedian MARIA BAMFORD for an evening of new standup. Not only will you get to hear the very best comedy around, but the show will have a live studio audience with real laughter from a group of 20 people selected from ticket buyers. Nice, eh?! You'll be getting that genuine RushTix experience filled with real human connection. No bots allowed! In addition, Maria will be joined by special guest and IRL pal Jackie Kashian (Dork Forest, The Jackie & Laurie Show).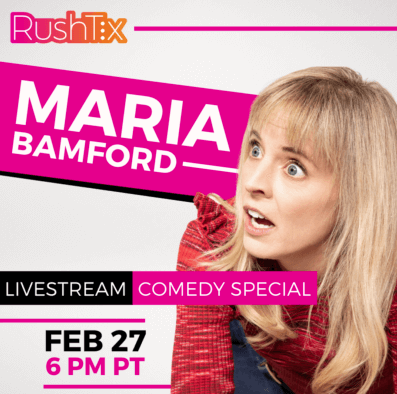 If you are unfamiliar with Bamford's work. She starred in the surreal, semi-autobiographical Netflix comedy series Lady Dynamite about a comic suffering a nervous breakdown. She's starred in three unconventional hour-long stand-up special: Weakness is the Brand, Old Baby and Maria Bamford, the special, special, special! Maria was the first female comic to have two half-hour Comedy Central Presents specials. She also starred alongside Patton Oswalt, Zach Galifianakis and Brian Posehn in the Comedy Central series The Comedians of Comedy and Netflix's Comedians of Comedy: The Movie. And, let's face reality, a good number of you saw her as the Target Black Friday "open, open" lady in all those highly memorable ads of history. So without further ado, go snatch up those tickets!
Mentions: Show 6pm. Tickets HERE. Follow Maria on Facebook, Twitter, and Instagram.