Quick Dish Quarantine: More SELF CARE COMEDY with 4 Days of Laugh-Inducing Stand-Up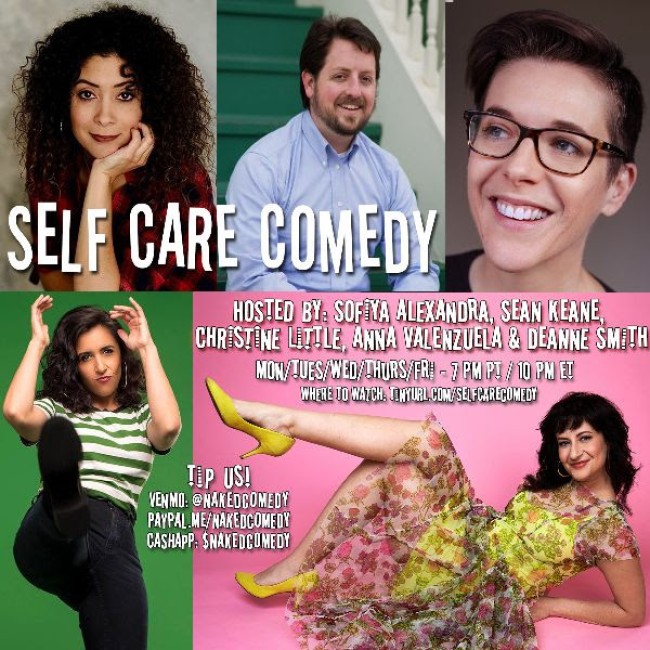 The SELF CARE COMEDY party train doesn't stop as another week of top notch laughs comes your way. This St. Patrick's Day week will include four fully packed lineups ready to unleash all that creativity that's been pent up during the pandemic. You will get a new host each day from the talented pool of DeAnne Smith, Christine Little, Anna Valenzuela, Sofiya Alexandra & Sean Keane, and it all happens on that little platform we've all grown to heart/hate, Zoom. Enjoy another week nightly live comedy roster of:
Monday 3.15:Max Beasley, Todd Glass, Ahmed Baroocha
Tuesday 3.16: Brandie Posey, Miles Gray, Francesca Fiorentini
Wednesday 3.17: 🍀 Erin Foley, Marcella Arguello, Hadiyah Robinson
Thurday: NO SHOW
Friday 3.19:Shalewa Sharpe, Laurie Kilmartin, Josh Gondelman
Now go plant some seeds on your mask so it will bloom before Spring! Jokes, people. Also, blame Taylor Swift.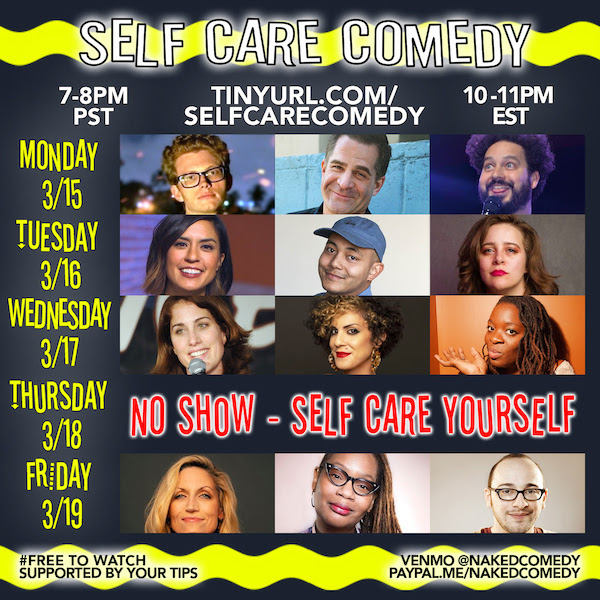 Mentions: Shows Monday-Friday (Except this Thursday) 7pm PT/10pm ET. Watch on Zoom. Meeting ID: 840 2706 9654. Headphones recommended! $10 per show tip suggestion. Donate/tip to pay performers/hosts/producer on Venmo @nakedcomedy, PayPal.Me/NakedComedy, CashApp $nakedcomedy, & Eventbrite.com/e/self-care-comedy-tickets-138026231173.