Quick Dish Quarantine: THE MARY JO PEHL SHOW Hosted by MST3K's Mary Jo Pehl Livestreaming TONIGHT on Twitch
Thirsty for more livestream goodness? Well, we've got just the show for you! Original Mystery Science Theater 3000 writer & cast member Mary Jo Pehl hosts a new installment of her livestream series in collaboration with Dumb Industries this very evening. The Mary Jo Pehl Show is a monthly comedy-variety show featuring Pehl hosting an ineractive hour of comedy free to all viewers. Word on the street is this episode you can RSVP for a chance to win a homemade wooden url from Mary Jo's father (I hope). Don't worry, he won't be inside. Those who RSVP are entered into a raffle and the winner will be announced at the end of the show. Be there!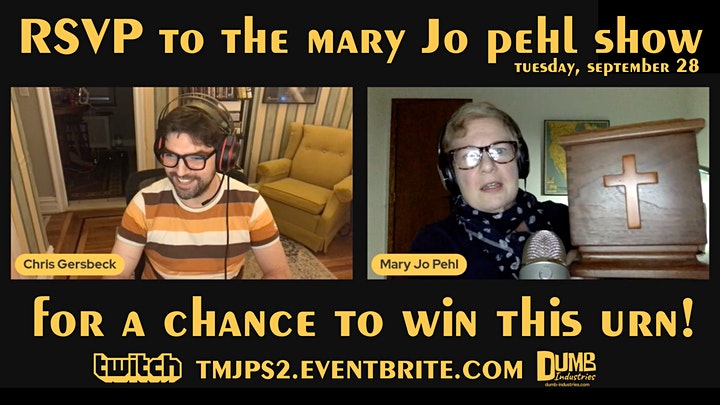 Mentions: Show 5pm PT/8pm ET/7pm CT. RSVP HERE to get e-mail reminders. No signup for Twitch is required to watch live. If you can't watch live subscribe to the The Mary Jo Pehl Show Twitch channel and you will be able to watch the replay at your leisure. Watch The Mary Jo Pehl Show on The Mary Jo Pehl Show Twitch channel every fourth Tuesday. Themes for future episodes of The Mary Jo Pehl Show will be decided by the fans, with Pehl providing several possible options at the end of each show and letting viewers vote on which they're most anxious to see next!