Quick Dish Quarantine: MST3K'S 'The Mads Night of Shorts 5' Live Online Riffing TONIGHT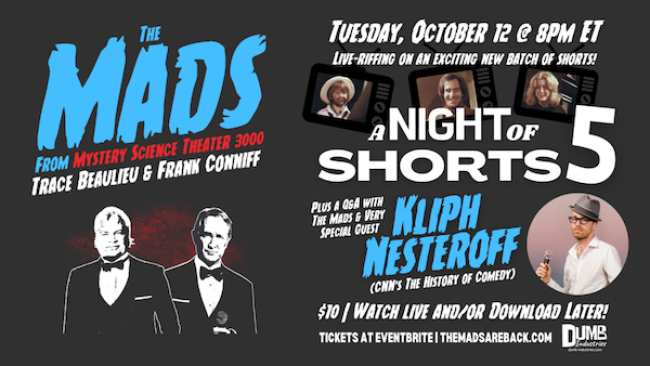 What do "The Mads" from MST3K, Trace Beaulieu and Frank Conniff have up their sleeves for a new installment of The Mads: A Night of Shorts 5? WE can bet it's mischievous and crafty in a riffing kind of way! Watch online as they bring you a whole new batch of bizarre shorts, including a special Halloween-themed one! In addition to the feast of shorts, there will be a post-show Q&A with Frank and Trace AND special guest Kliph Nesteroff (CNN's The History of Comedy, author of We Had A Little Real Estate Problem: The Unheralded Story of Native Americans and Comedy)! You won't want to miss one delightful moment TONIGHT!
Mentions: Show 5pm PT. Tickets HERE. A portion of the proceeds from this event will benefit Friends In Need Food Shelf in Minneapolis.