Quick Dish LA: ROD STEWART LIVE 11.10 at Permanent Records Roadhouse with Whitmer Thomas, Jackie Kashian & More!
Come one, come all to "LA's Only Comedy Show" named after a knighted septuagenarian British rock and pop legend.  TOMORROW, November 10th ROD STEWART LIVE will be ripe with comedy power as the best comedians fill the beautiful outdoor patio of Permanent Records Roadhouse with laughter. Get you to Glassell Park because the lineup, hosted by local boyz Sam Wiles & Zach Pugh, will be a feast for all comedy lovers:
Whitmer Thomas
Liza Treyger
Curtis Cook
Jackie Kashian
& Mo Welch!
You can feel the energy already! DO NOT miss out!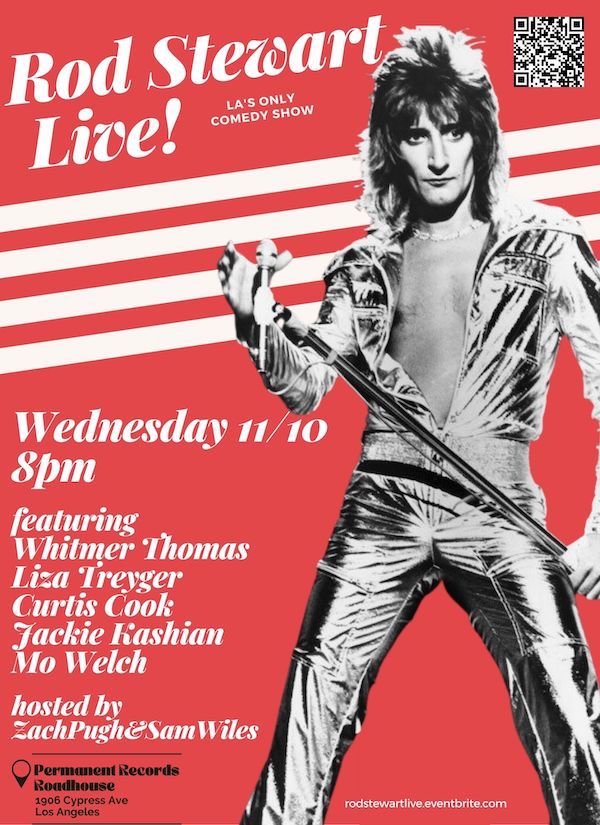 Mentions: Doors 7:30pm, Show 8pm PT. Tickets HERE (Promo code ROLLERCOASTER for discounted tix, if you value the contents of your pocketbook). Location: Permanent Records Roadhouse, 1906 Cypress Avenue, Los Angeles, CA 90065. Follow the show THERE. Proof of vax required.