Quick Dish Quarantine: SELF CARE COMEDY Tomorrow Online Hosted by Sofiya Alexandra & Christine Little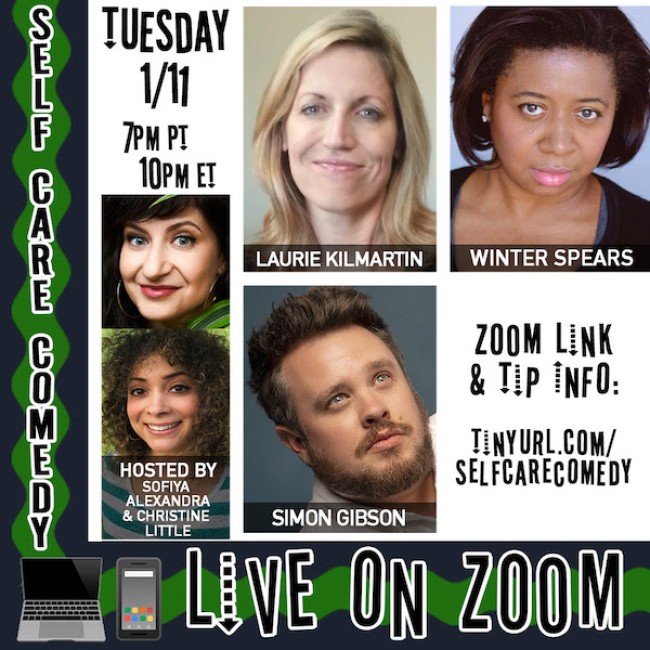 Everyone seemingly has a date with omi-bug destiny, but if you'd like to stave off the inevitable, may we suggest some SELF CARE COMEDY stand-up TOMORROW online! R-naught unknown seems like it should be the name of an album, right? (Oh, by the way, feel free to add that potential title to your lexicon)! Anyhoo, this Tuesday, January 11th, join hosts Sofiya Alexandra and Christine Little as they bring you a safe and hilarious evening of comedy from the likes of:
Laurie Kilmartin
Wynter Spears
Simon Gibson
Now get back to whatever you do to keep sane.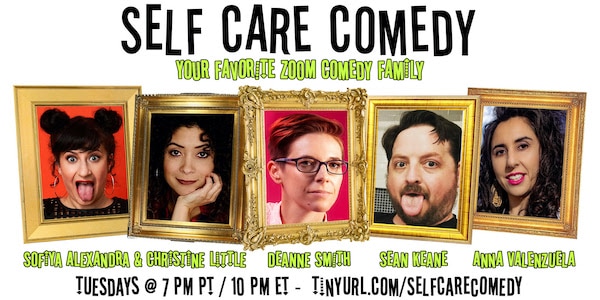 Mentions: Show 7pm PT, 10 pm ET. Zoom link: https://us02web.zoom.us/j/84027069654
Meeting ID: 840 2706 9654. Feel free to leave your mics and videos on. Please be in a quiet room and keep talking to a min during the show. Headphones recommended. Support the show with a $10 tip to pay performers, hosts & the producer. Tip via Venmo @nakedcomedy, PayPal.Me/NakedComedy, & CashApp $nakedcomedy. Watch Self Care every Tuesday! Follow them HERE.
Every TUESDAY is SELF CARE COMEDY!
Hosted by:
Sofiya Alexandra
Christine Little
Sean Keane
DeAnne Smith
Anna Valenzuela
Join the fun on Zoom:
tinyurl.com/SelfCareComedy