Quick Dish Quarantine: Be A Part of DeANNE SMITH & ACQUAINTANCES' Tender Comedy for Tough Times This Friday 1.14 Online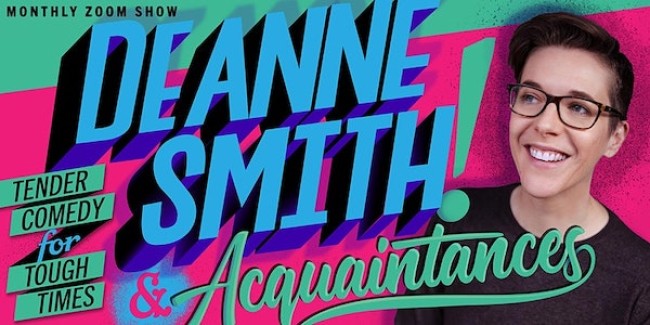 As IRL gatherings become ever so dicey in the new year, comedian DeAnne Smith (Gentleman Elf, Melbourne International Comedy Festival, Just for Laughs Comedy) is equipped to swoop in to gather the entertainment hungry ever so safely online for some virtual spirit-hugging live comedy. At every DeANNE SMITH & ACQUAINTANCES show, DeAnne welcomes a rotating gaggle of comedy friends and mere acquaintances. This go-round the entertainment includes performers:
ANDY KINDLER (Everybody Loves Raymond, Dr. Katz, Bob's Burgers)
FRANCESCA FIORENTINI (The Bitchuation Room)
and BABS GRAY (#FreeBritney, Lady to Lady)!
What are you waiting for, go do the necessary clicks and swipes to get yourself a virtual seat today!  Did we mention a portion of each month's proceeds will be donated to a different "cool ass" organization, so you will be doing more than you could ever imagine?! (I hear this month it's going to the animals). Enjoy!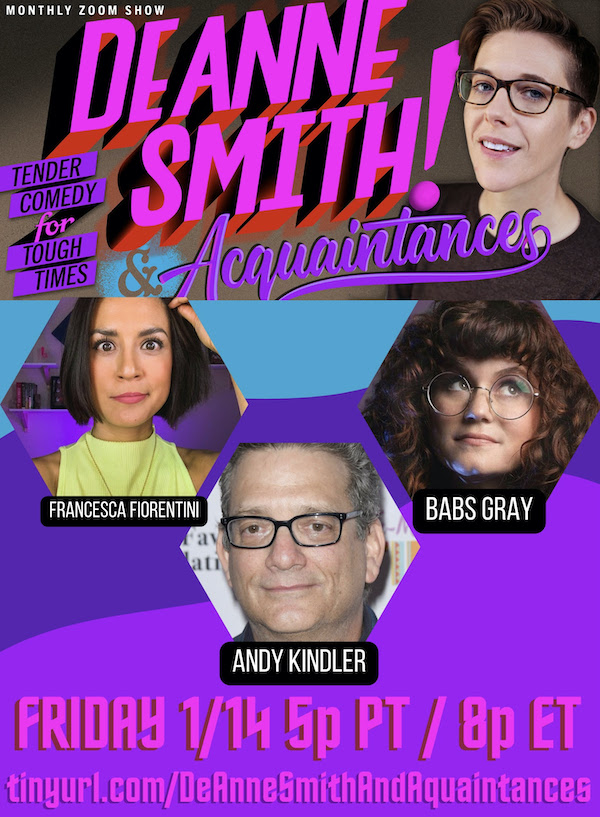 Mentions: Show 5pm PST, 8pm ET. Donation link HERE. Follow the host THERE.