Quick Dish LA: Plenty of DIRTY LAUNDRY Laughs This Thursday at The Airliner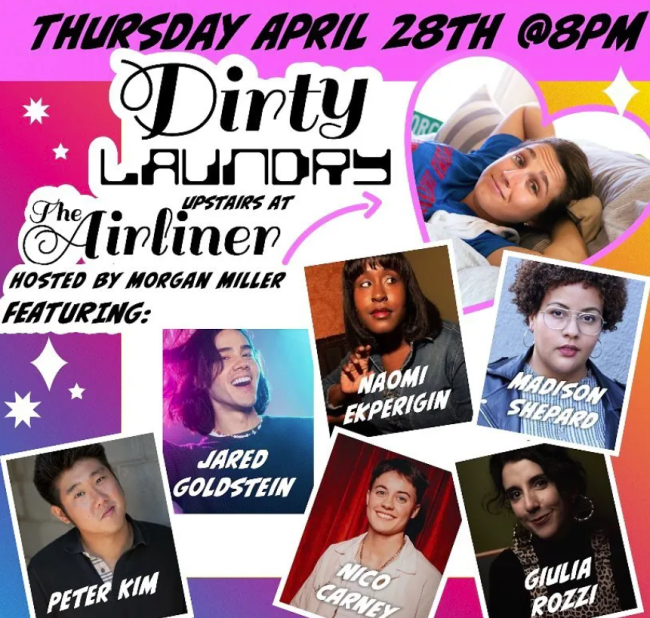 They say "Tuesday's child is full of grace," but "Thursday's child has far to go." Shouldn't that be the reverse? Never you mind that! (It's bad enough knowing that broccolini isn't a naturally occurring veg). Time to inject some good in one's routine as DIRTY LAUNDRY pops up on your calendar THIS Thursday. Join special host Morgan Miller for an evening of sudsy laughter. The show happens Upstairs @ The Airliner, and this week these comics from Comedy Central, HBO, Adult Swim, Conan, The Tonight Show with Jimmy Fallon, Late Night with Seth Meyers and The Late Show with Stephen Colbert promise not to put concrete in the comedy load:
Naomi Ekperigin
Giulia Rozzi
Peter Kim
Madison Shepard
Jared Goldstein
Nico Carney
& more!
Come join in the high energy fun!
Mentions: Happy Hour 5-7pm. Show 7pm PT. $7 online, $10 at the door (Word on the street is if you comment or DM at the Insta account you can get a discounted ticket). 21+. Location: The Airliner, N Broadway, Los Angeles, CA, 90031. Proof of vaxx or negative test result required at venue. No outside food/drink. Photo by @jonhess1005 & poster by @nolanfolk. This show is produced by Olivia Ghersen! Feed the algorithm THERE.