Quick Dish LA: PERMANENT VACATION Stand-Up Comedy 6.12 at Permanent Records
Tie that weekend up with crashing guitar of humor care of PERMANENT VACATION! This Sunday, June 12th, enjoy more stellar standup performances at the record store/venue, bar Permanent Record Roadhouse. Hosts Bailey Norton (Reductress), Sammy Mowrey (Adult Swim) and Tyler Jackson (SF Sketchfest) will be welcoming the "rockinest, rock-steady beat" of comedy partiers:
Guy Branum
Jane Harrison
PT Jones
Robby Hoffman
Sandy Honig
Sara Schaefer
Merriment will be had by all!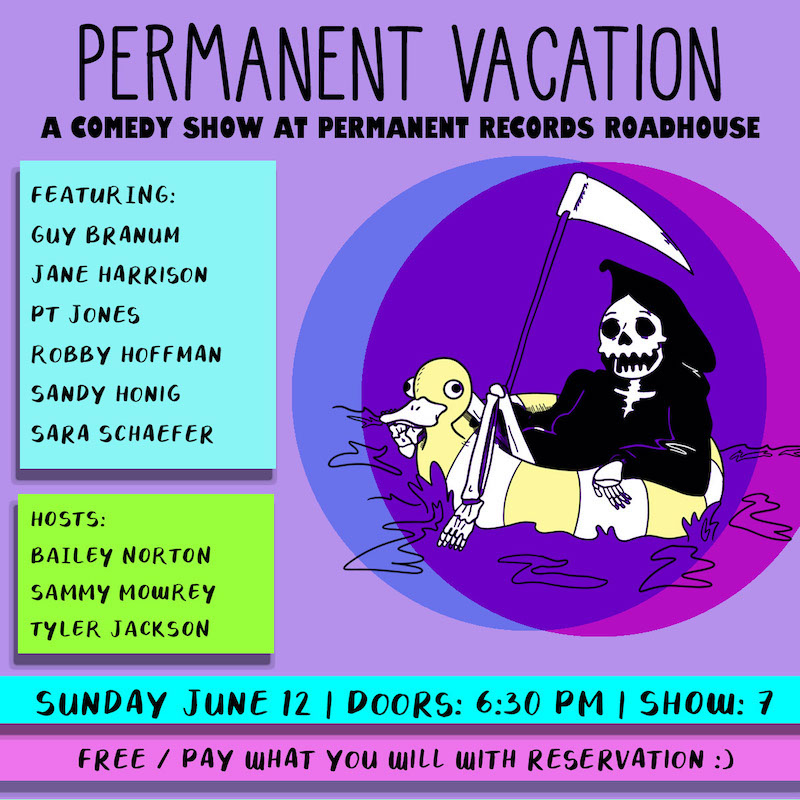 Mentions: Doors 6:30 PM, Show 7:00 PM PT. FREE (pay-what-you-will). 21+. Location: Permanent Record Roadhouse, 1906 Cypress Avenue, Los Angeles, CA 90065. Plenty of street parking. Stick around the bard after for live music from Vicky Farewell. Follow the show. Feed the SEO.