Quick Dish Online: MOVIE JO NIGHT with MST3K's Mary Jo Pehl TONIGHT on Twitch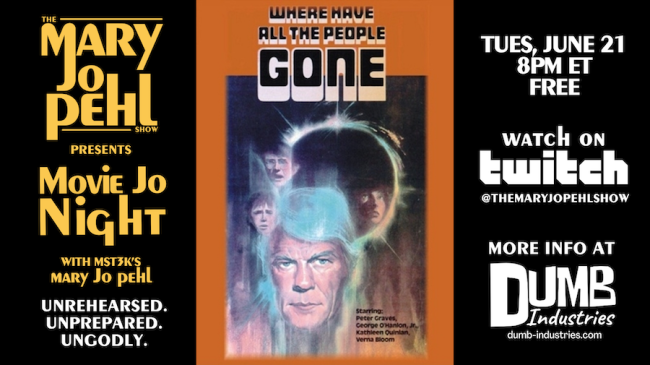 WHERE HAVE ALL THE PEOPLE GONE? That's a question many people ask themselves when the liquor's gone dry. HOWEVER, in this case, it refers to the 1974 American made-for-TV sci-fi film starring Peter Graves, Kathleen Quinlan, George O'Hanlon, Jr. and Verna Bloom. In anticipation of the next episode of The Mary Jo Pehl Show, original Mystery Science Theater 3000 writer and cast member, Mary Jo Pehl, will watch this never-before-seen-by-her TV film, with YOU, her adoring fans. It will all happen on Twitch, and the post-apocalyptic vibes will be strong with this one. (Been there, done that!) You are a shoe-in for this one, folks. Don't miss out on all the Movie Jo Night "unrehearsed. unprepared. ungodly" fun TONIGHT!
Mentions: Show 8pm ET/ 7pm CT. Live broadcast info HERE. FREE. Event not offered as a download later.