Tasty News: Starburns Audio & Audible Present The New Original Podcast ROBOROCKALYPSE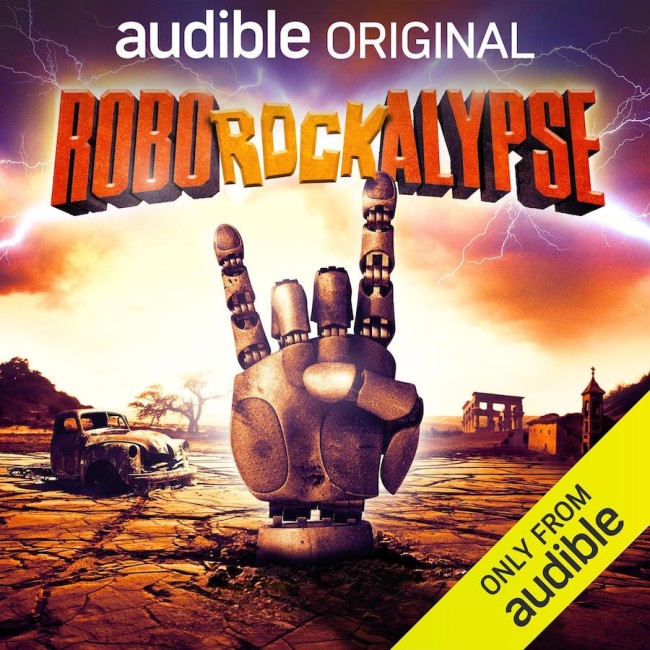 Audible Inc., your premium audio storytelling creator and provider, and Starburns Audio, those creator-driven indie comedy darlings, have released a new Audible Original podcast called ROBOROCKALYPSE. Not to be confused with that Adult Swim gem Metalocalypse, the new podcast, written by brothers Ben M. Waller (Star Trek: Lower Decks) and Maxton Waller (Stan Lee's Cosmic Crusaders), is a "one-of-a-kind-sci-fi-comedy-rock-opera-post-apocalyptic-coming-of-age-musical" that tests the limits of one's typing abilities. Hey, a Cake Mama can only type "apocalypse" so many times accurately. In the Roborockalypse , the future sucks, of course. However, it's worse because our smart home devices have risen up and created an evil army of Electrobots that wipe out everyone with some nasty nukes. The humans who have survived must eek out a life in the desert where they can only farm radioactive taters, while evading Electrobot drones. Ely, played by Jessica McKenna (Star Trek: Lower Decks), and priest Father Bright, played by Chris Parnell (SNL, 30 Rock) are some of those survivors. While Father Bright just wants to keep Ely safe, Ely has other plans outside the fence beyond farming.
As plots go, a mysterious stranger shows up disrupting the farmers' lives (even more than they already have been). Abe (James Monroe Iglehart – Hamilton) kicks in the door and demands to know about a place known only as "The Big Box." Of course, everything changes after that encounter. The listener is taken on a ride across the wastelands, getting introduced to a cast of a diabolical characters like the Warden (James Urbaniak – The Venture Bros.), the bureaucratic Electrobot in charge of the human prison; M40 (Baron Vaughn – Mystery Science Theater 3000), the Electrobot showman who melts anyone who can't hold a tune; and a plethora of other attention-catching characters that gravitate within the nuclear wastelands. If you've never imagined humans and Electrobots in a battle of the bands to decide the fate of the world, then that time is now! Crank that volume to 11 and get your Roborockalypse on this weekend because your future may depend on it!
Mentions: Listen to Roborockalypse on Audible. Follow the pod HERE. Feed the beast.