Quick Dish NY: Go Down The Rabbit Hole with LADY ADHD 8.30 at Caveat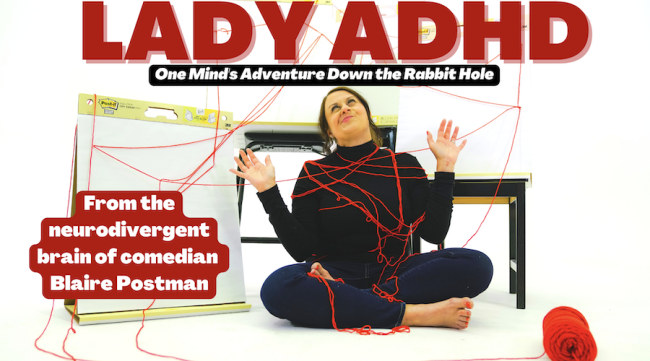 The LADY ADHD experience is like taking the red pill and entering The Matrix to uncover all the Adult attention-Deficit/Hyperactivity Disorder truths that reside inside comic Blaire Postman's ever-evolving brain. Next month, August 30th at Caveat, Postman will present the part stand-up, part TED Talk, one-person show that combines her signature flip chart stand-up comedy pieces with running commentary about her life with long-undiagnosed ADHD. It's unlike most shows you've seen, and will leave you thought-provoked and radically charmed. Postman is known for her "explosive, fast paced delivery and comedy that often spans unusual topics." Blaire began stand-up in 2013. Before starting comedy the performer was twice married, bankrupt, and pursuing 3 or so careers, "some of which blew up, but all of which provided" the stories that make LADY ADHD so endearing and effective.
Since her comedy start, Postman has been featured by PBS's NewsHour, and appeared in the most prestigious comedy festivals in the United States, including SF Sketchfest, Limestone Comedy Festival and Asheville Comedy Festival. She's been featured on podcasts like "The Dork Forest" and "The Jackie &Laurie Show" as a Comic of the Week. She regularly "features for actually-famous comedians at large, nationally known comedy clubs and theaters, and headlines at smaller, cool-kid, indy comedy rooms from New York and DC, to Austin and Minneapolis, to Raleigh to Boise, and every corner of the country in between." Come along on this flip-chart journey where Postman turn life's chaos into order through the transformative art of humor! Enjoy!
Mentions: Doors 6:30pm, Show 7pm ET. Tickets $15 in advance, $20 at the door. 21+. Location: Caveat NYC, 21a Clinton Street, New York, 10002. Follow the show. Feed the beast. Proof of vaccination required for in-person attendance. Mixed seated/standing venue. No outside food/drink. Unless otherwise noted seats are first-come, first-served.