Quick Dish LA: "Meet Me At Erewhon" Comedy Show Tonight at Genghis Cohen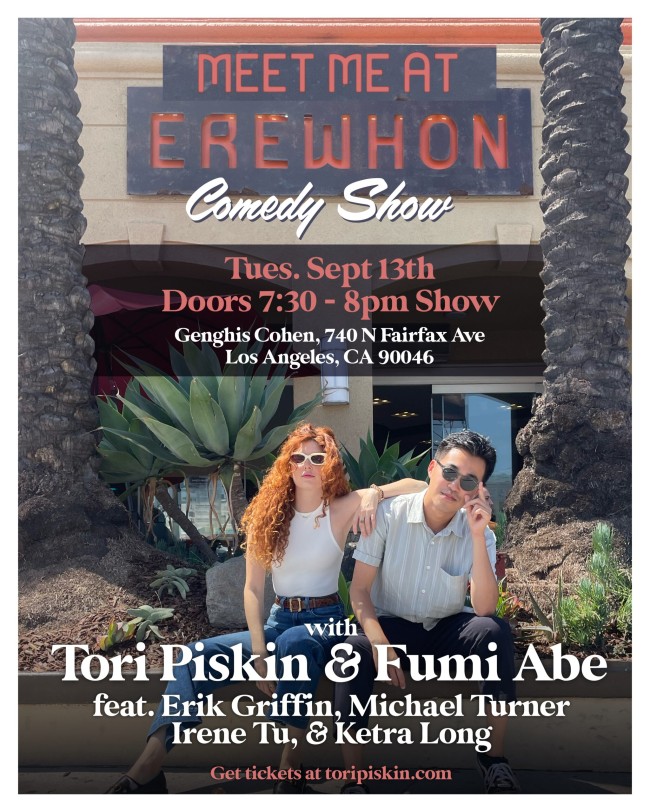 Did the Emmys actually happen or was I just having another Venusian nightmare? Having not viewed the award show (nor retained any awareness of who was nominated), I will now make my prediction for which programs took all the trophies: Dallas, Mork & Mindy, Alf, Starsky & Hutch and Ted Lasso. How'd I do? OK, now let's take a sharp turn to the subject matter of comedy and luxury Cali supermarket chains. This very evening head on over to the legendary Genghis Cohen for the Meet Me At Erewhon comedy show featuring the talent displayed before your eyes:
Tori Piskin
Fumi Abe
ft Erik Griffin
Michael Turner
Irene Tu
and Ketra Long!
It will be a delicious endeavor. Free smiles at checkout. Enjoy!
Mentions: Doors 7pm, Show 8pm PT. Tickets. Location: Genghis Cohen, 740 N Fairfax Ave, Los Angeles. Feed the beast.