Quick Dish LA: TONIGHT Enjoy Comedy & Short Films with TALKIES at Whammy! Analog Media
Birthed in the basement of San Francisco's late Lost Weekend Video store (sniffle), the experimental monthly show, TALKIES, takes root in LA every third Thursday. Oh, what do you know, that's TODAY! Come join hosts Aviva Siegel, George Chen, Land Smith and Nick Stargu for an evening of avant-garde comedy at the cinema-charmed at the Whammy Analog VHS store. At Talkies, comedians, writers, improvisers, and performers work outside of their regular routines to push the boundaries of comedy via PowerPoint presentations, characters, and off-stage antics. Tonight's lineup looks like this:
Erin Lampart
Christine Medrano
with Short by Joey Izzo!
Come check it out!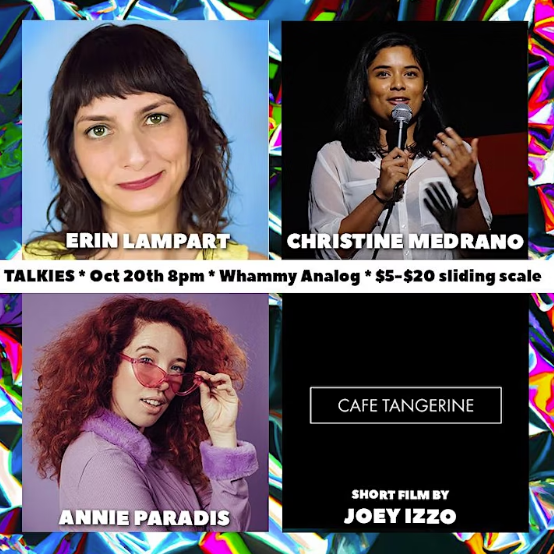 Mentions: Show 8pm PT. Price: $5-$20 sliding scale. location: Whammy Analog, 2514 Sunset Boulevard, Los Angeles, CA 90026. Follow the show. Feed the beast.