Quick Dish LA: FRIENDSHIP BUDDIES Show 1.22 at Verdugo Bar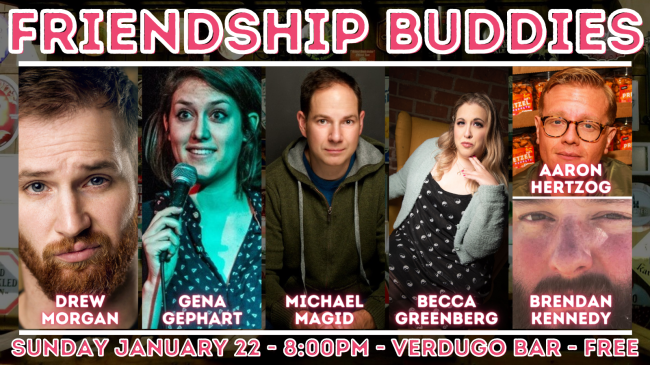 Are you ready for some FREE, OUTDOOR comedy in Glassell Park? Then we've got just the thing! This Sunday, January 22nd at Verdugo Bar, join hosts Aaron Hertzog and Brendan Kennedy for a weekly, stand-up showcase on the outdoor patio called FRIENDSHIP BUDDIES. Comics from Netflix, HBO, Comedy Central, MTV, Late Night TV, and more will be entertaining the stuffing out of you, plus there will be a full bar and food truck at your disposal. Living! This week's lineup includes:
Drew Morgan
Gena Gephart
Michael Magid
and Becca Greenberg!
Now that sounds like a heck of a good time. Be there before it gets unbearably hot again!
Mentions: Show 8pm sharp PT. Free. Donations optional. Great drink selection. Food truck. Location: Verdugo Bar | 3408 Verdugo Rd., Glassell Park. Follow the show. Feed the algo.