Quick Dish NY: 'IAN LOCKWOOD'S Boyfriend Pageant' 1.28 at Union Hall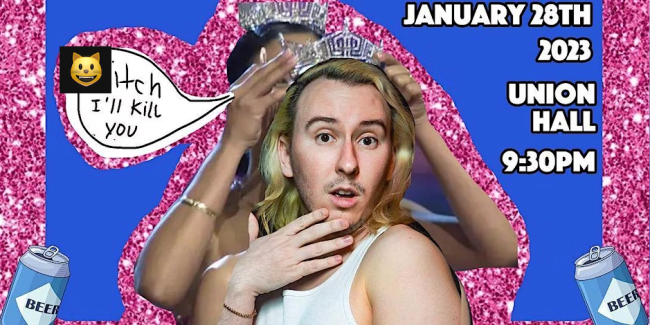 TOMORROW, January 28th, be one with the pageantry and the hot dogs! Yes, Brooklyn comedian-and-pop-star Ian Lockwood's IAN LOCKWOOD'S BOYFRIEND PAGEANT with its 5th edition as Lockwood continues his search for love. Twenty contestants will compete to be pop-star-comedian Ian Lockwood's gay boyfriend in 3 glorious rounds — Suit & Age, Talent & Verisimilitude, and Emotional Support. The winner will reign as Ian's boyfriend for ONE (1) year and receive a ONE (1) year supply of hot dogs from Jonathan's Crazy Hot Dogs*. Jealous? This year the possible candidates include:
Andy Ward
Ash Diggs
Ben Warheit
Brandon Follick
Baphta
Christopher L. Tucker
Dan Yang
Eric Yates
Erin Dugan
Ibhan Kulkarni
James Wendt
John Hedrick
Jordan Defilippo
Michael Abber
Michael Terry
Ritam Mehta
Tej Khanna
Tim Kov
William Banks
with Judges: Maggie Crane, Youngmi Mayer, and Christiana Jackson presiding!
And special appearances from Andrew Barlow!
My goodness, we can barely contain our enthusiasm for the outcome. Don't miss out on the impracticality of it all at Union Hall!
Mentions: Show 9:30pm ET. $10 advance/$15 day of. Ages 21+. Proof of Vaxx required. Location: Union Hall | 702 Union St. Brooklyn, NY 11215 (* One (1) year supply of hot dogs is defined as one thousand (1000) hot dogs and will be delivered in one shipment on January 1st, 2023. Buns not included).