Quick Dish NY: HA OR NAH! A JOKE LAB Tonight at Capish?! Club @ Lunella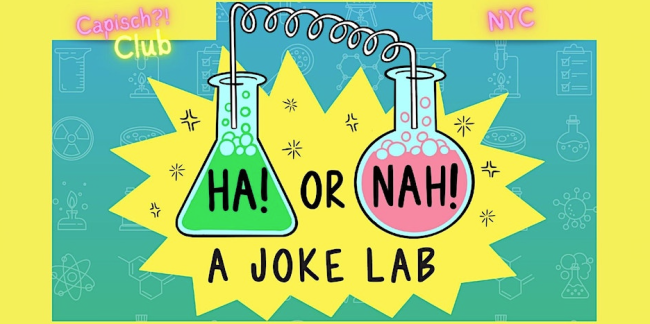 Join a community of hilarious comedians (from HBO, Netflix, Comedy Central – and more!) as they bring you their NEW inventions in the most innovative and exciting new joke show in NYC. HA OR NAH! A JOKE LAB audience members have said that the show "felt like a communal experience," "No matter where you're from or what you've done you'll relate to the humor in this room," and that "Something you'd think only locals would know about and tourists would not be able to find. But, if a tourist happens to find it, they're lucky." Can't beat genuine praise like that! Tonight's event will feature another eclectic lineup:
Zoe Rosenberger (Publishers Weekly)
Ethan Filler (Gotham Comedy Club)
Daniel J Perafan (NBC)
Yoshiko Watson (New York Magazine)
Character performer: Sloan Brettholtz (BoogieManja)
New comic: OddBallMatt
All hosted by Lauren LoGiudice (HBO)
Come have a blast with the HA or NAH! gang!
Mentions: Doors 7:30pm pre-show gathering, Show 8pm ET. Tickets HERE (sliding scale). Location: Capish?! Club @ Lunella | 173 Mulberry Street New York, NY 10013. Full menu served. Featuring a raffle for a Venierl' Pasticceria & Cafe gift card. Give your host a FOLLOW. Feed the beast.