Quick Dish: See 'Talking Marriage with RYAN BAILEY' 1.28 LIVE at UCB Sunset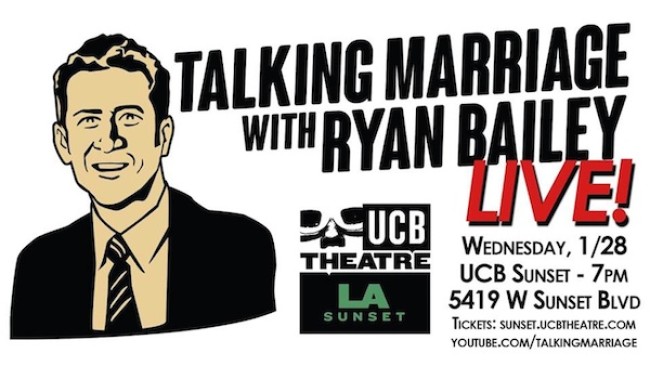 If you read Comedy Cake on a consistent basis (of course, you do!) then it should be no surprise that we are big fans of the web series Talking Marriage with Ryan Bailey. In the words of it's creators Talking Marriage is "A talk show devoted to all things marriage, from the first "I do" to the 654th time I didn't make the bed right." Sounds about right. Well, the gang had plenty of fun on set so they thought it fitting to bring their madness to the UCB Sunset stage. Wednesday, January 28th learn everything you ever desired to know about the marriage experience. Ryan will have tips, tricks, advice, and possibly a meltdown to try and help you survive your destiny. Prepare yourself for a crack crew and star-studded guests:
Starring: Ryan Bailey
With Evan Gaustad, Joshua Meindertsma, Sean Persaud, and Tiffany Elle
Just remember Ryan is NOT a licensed marriage counselor and will be lucky if his marriage can survive the show. J/K!
Mentions: Show 7pm. Buy Talking Marriage tickets HERE! UCB Sunset is located at 5419 W Sunset Blvd., LA. Watch 2 full seasons of Talking Marriage NOW!