Quick Dish: Get Green with GLENDALIA! 3.3 at The Complex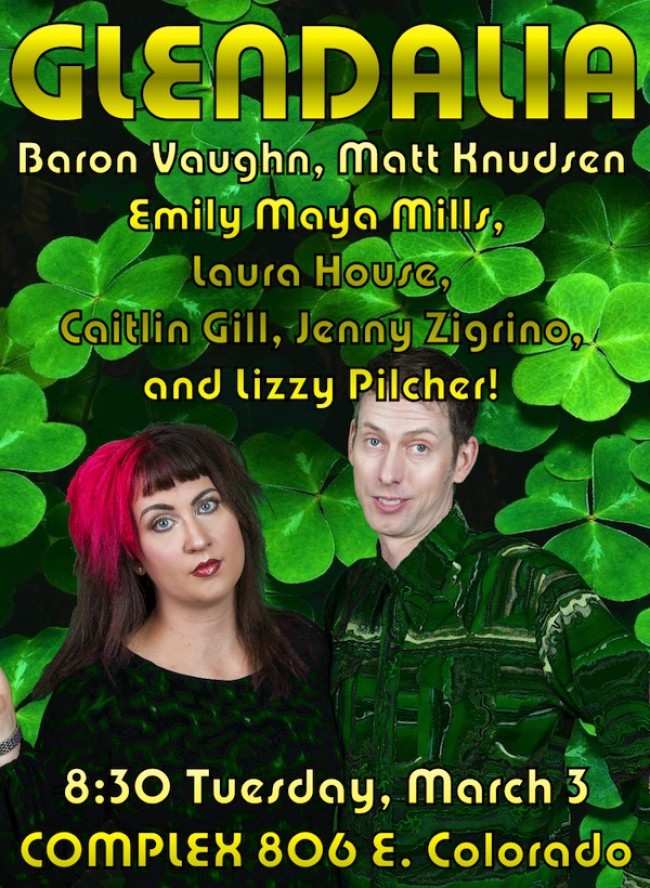 MARCH is almost here! That, of course, means honorary Irish citizenship and mass consumption of green colored beverages. It also means it's time to get those leprechaun laughs going at GLENDALIA! Check out this lucky lineup:
Matt Knudsen (Conan, The Late Late Show, Last Call)
Baron Vaughn (Conan, Jimmy Fallon, Maltin on Movies)
Emily Maya Mills (Ellen, Conan, Childrens' Hospital, Key & Peele, Comedy Bang Bang)
Laura House (Premium Blend, Austin Stories, Louis CK's favorite lady comic)
Caitlin Gill (SF Punchline, Purple Onion)
Jenny Zigrino (Riot LA, IFC)
Lizzy Pilcher (Oxygen Network, GOTHIXXX, the world's premier gothic vlog!)
and your lovely hosts, Dax Jordan and Virginia Jones!
AND two lottery spots for visiting comics!
Wearing green at a goth bar is good luck, right?
Mentions: Show 8:30p. No Cover! 21+ The Complex is located at 806 E. Colorado, Glendale.