Quick Dish: Its New! It's DTF for The People at UCB's Inner Sanctum 6.22

Who says Mondays have to be downers? Begin your week with a brand new comedy party called DTF. June 22nd at UCB's Inner Sanctum, your hosts Emily Maya Mills, Donny Divanian, Cory Loykasek, and Erin Lennox bring you the hottest comics that are guaranteed to jumpstart your giggle center. Your introductory show features these utterly appealing entertainers: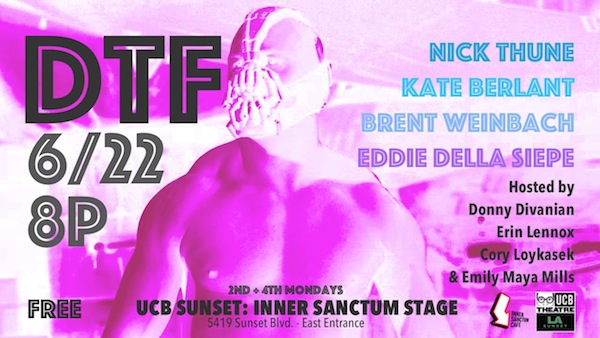 Nick Thune
Kate Berlant
Eddie Della Siepe
Brent Weinbach
+ surprise guests
"This is a show for the people, by the people." – party people
Mentions: Show 8pm. FREE!!! The UCB Inner Sanctum (stage off of the cafe) is located at 5419 W Sunset Blvd., Los Angeles.