Quick Dish: NEIL HAMBURGER LIVE 8 Year Anniversary Celebration Pt. 2 10.25 at The Satellite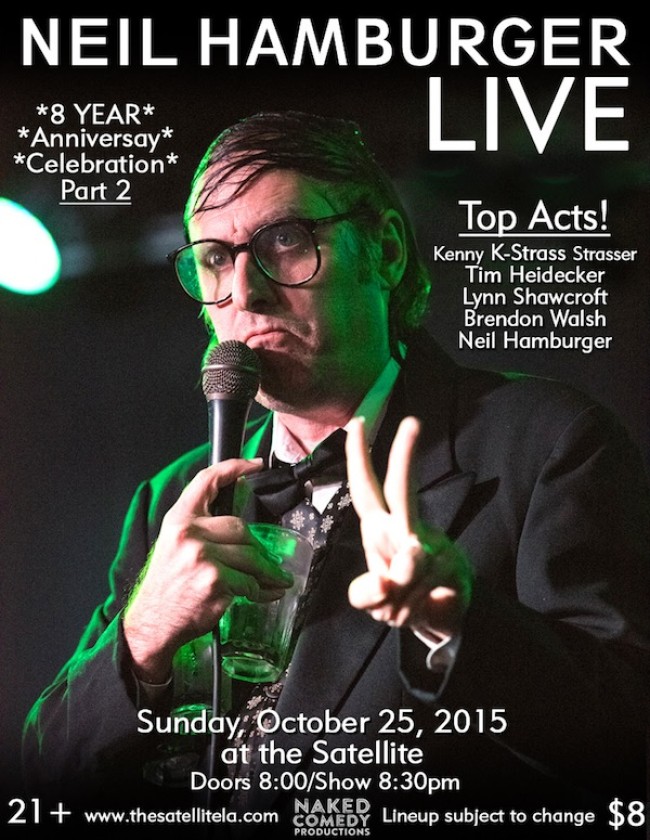 Everyone loves a celebration. What could be better? Um, a TWO PART celebration! Last month, the NEIL HAMBURGER: LIVE show commemorated 8 years of laughter with the first installation of a grand laugh party. The guests included Andy Kindler, Gabe Abelson, Kenny "K-Strass" Strasser and a major entertainer. This month the celebration continues with PART DEUX. The king of "Entertainment" offers up this platter of stars to honor the comedian's esteemed Silverlake monthly residency:
Tim Heidecker (Tim & Eric's Bedtime Stories,TAEASGJ)
Brendon Walsh (Jimmy Kimmel Live, Maron, Bonezone Podcast)
Kenny "K-Strass" Strasser (Conan Live)
Lynn Shawcroft (WTF with Marc Maron)
& more…
hosted by Neil Hamburger (Entertainment, Tim & Eric)
Get yourself over to The Satellite Sunday, October 25th for pure gut-punching pleasure!
Mentions: Doors 8pm. Show 8:30pm. Buy Neil Hamburger: LIVE tix HERE! The Satellite LA is located at 1717 Silver Lake Blvd, Los Angeles.