Quick Dish: McBain Sketch Comedy 12.19 at iO West Theater
McBain, an iO West house team, will have you wrapped in laughter this holiday season. This weekend, December 19th expect some weird, dark and super funny sketch comedy to drop right in your lap. No, not literally, but you get the picture. While you wait for the most absurd of sketch shows to take over your mind, watch McBain's latest NSFW video, Poltergeist Boyfriend:
Did we mention McBain will be joined 100% Stuff coached by Sam Brown (Whitest Kids U Know) and Eric Moneypenny (The Midnight Show, FOX ADHD). It's gonna be a night to remember!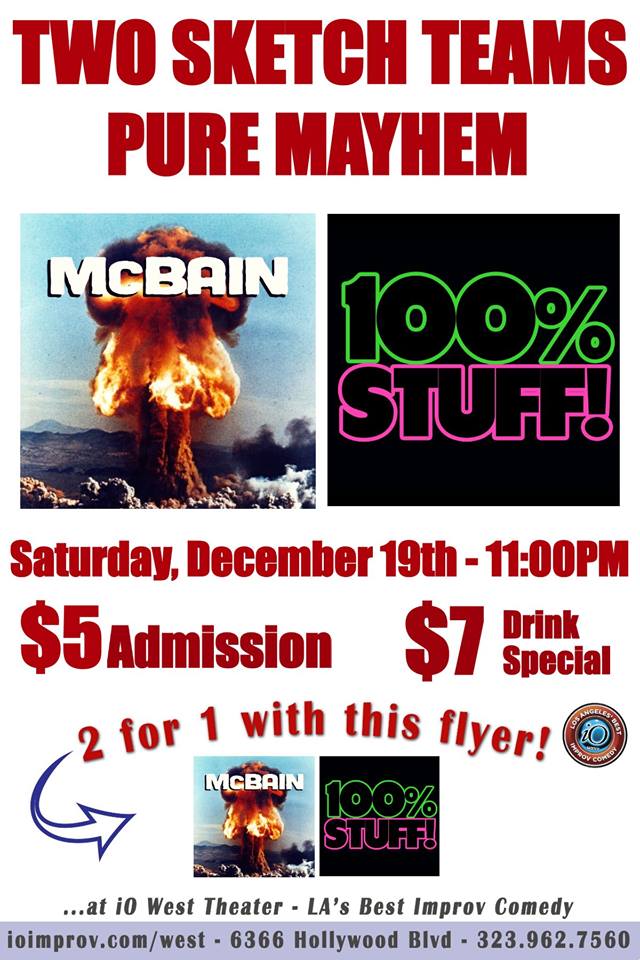 McBain is Shaan Baig (teenagers love him on YouTube), Shannon Brown (contributing writer for Reductress and The Big Jewel), Chris Gentile, Greg Giebel, Brendan McCay, Nicky Urban (fantastic actor who runs CAMP at UCB Sunset), Dana Vreede, and Dana Weddle.
Mentions: Show 11pm. Buy McBain/100% Stuff tickets HERE. Be sure to ask for the McBain drink special. Valet available. iO West is located at 6366 Hollywood Blvd., LA.