Quick Dish: See A Very Special WITCH HUNT Comedy Show 1.16 at The Virgil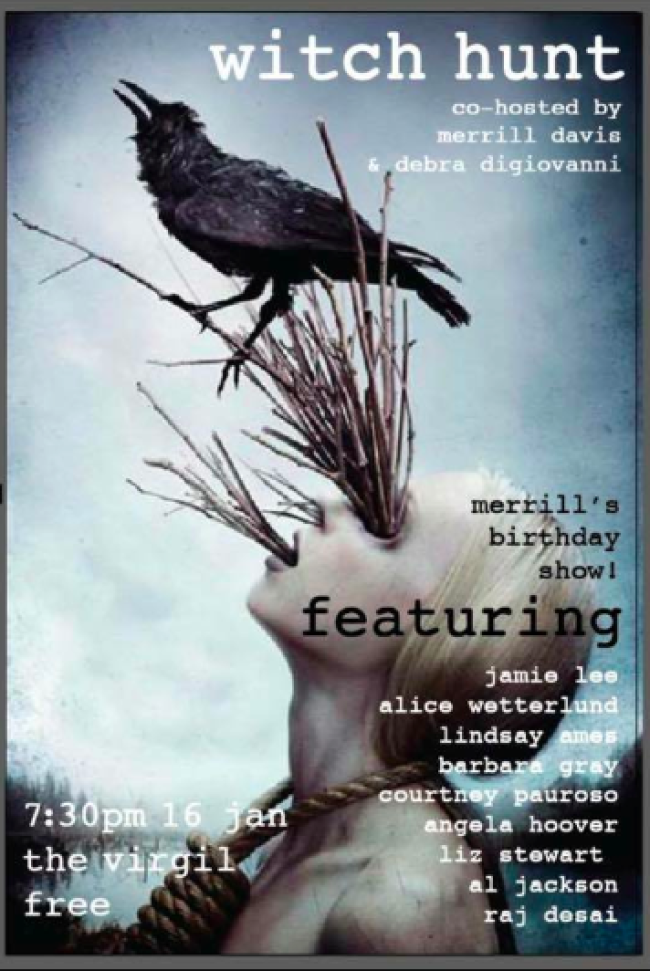 The lady witches and their male mortals would like to invite you to an other worldly comedy show filled with your favorite bewitching comics this weekend. This Saturday, January 16 not only will you be seeing a talented group of comedians perform but there will be extra cause for a WITCH HUNT celebration. It's co-host Merrill Davis' birthday so be extra nice to her (or she'll turn you into a toad)! Also, you are invited to donate to a very important organization, Peace Over Violence, dedicated to stopping all forms of interpersonal violence. Check out the amazing lineup:
JAMIE LEE (Conan, Late Late Show, 10 Things on TruTV )
COURTNEY PAUROSO (We Should Have a Podcast, College Humor)
LINDSAY AMES (Key&Peele, New Girl, Tosh.O)
COREY PODELL (Transparent, The Comeback)
BARBARA GRAY (Lady2Lady, SF Sketchfest, Bridgetown Comedy Festival)
ANGELA HOOVER (America's Got Talent, Inside Amy Schumer)
LIZ STEWART (Stand Up and Deliver, SLO Comedy Festival's Best of the Fest)
RAJ DESAI(Comedy Central, The Jeselnik Offensive, Live at Gotham)
AL JACKSON (Comedy Central Presents, John Oliver, Last Comic Standing)
hosted by Merrill Davis (Hulu's Coming to the Stage) & Debra DiGiovanni (Showtime Special on Netflix)
NO COVER for this show! There will be music and merriment! GO!
Mentions: Show 7:30pm. FREE! The Virgil is located at 4519 Santa Monica Blvd., LA.