Quick Dish NY: VAPOR Your Way to Happiness TOMORROW at Tender Trap
What's better than the present? The future, of course! Get ready for an evening of stand-up and sketch comedy from THE FUTURE TOMORROW, November 28th at North Brooklyn's Tender Trap. At VAPOR, an entire night of performance is scored by the internet's favorite music microgenre, #vaporware! You will see performances from comedians of the Upright Citizens Brigade Theatre, Annoyance Theatre, Magnet Theatre, IFC, Above Average, and more:
Molly Gaebe (UCB house performer, Lady Parts Justice writer)
Brett Davis (Andy Kaufman Award winner, host of MNN's The Special Without Brett Davis)
Phil Meister (Holy Fuck Comedy Hour)
Ben Hosley (IFC's Menage a Trois writer, Blank Check with Griffin & David producer)
Amanda Xeller (Magnet Theatre, Friendship Comedy Collective)
Kelly Cooper & Thomas Fricilone of Ground Floor Comedy and other humans
This will be one futuristic night to remember. Wrap your little mind around that justaxposed string of words. GO!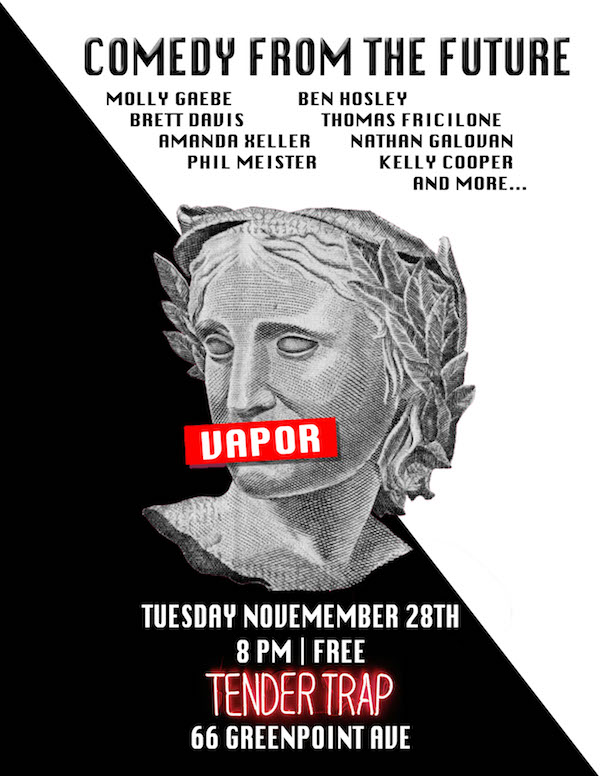 Mentions: Show 8pm. No currency required. Tender Trap is located at 66 Greenpoint Avenue, Brooklyn, NY 11222 off the Greenpoint stop on the G Train.