Quick Dish LA: INDIAN WEDDING Comedy Variety Show 10.12 at Three Clubs
We have great news for INDIAN WEDDING fans. The comedy variety show now has a Friday residency at Three Clubs. That means you can start your weekend off right with some immersive revelry. It's festival season in India so that means this month's show will be steeped in "ritual and lore," per the show's creators. Come see this theatrical engagement staged as a traditional South Asian pre-wedding celebration, "the Sangeet." Join siblings Pinky & Neal (Amrita Dhaliwal and Neal Dandade) as they host a variety of comedy, dance, and music acts in celebration of their brother's wedding. This month's featured guests include:
Amritha Kaur & Neal Dandade – Groom's Siblings
Shezi Sardar – Story-Teller
The Get Brown (Sai Lang, Kunal Dudheker, Kausar Mohammed, Saagar Shaikh, Shaan Baig) – Sketch Comedy
Rama Vallury – Family Music and Fun
Anne Akhila Rubins Kang – Dance
And more!
What are you waiting for? Attend your first or 20th Indian Wedding this month!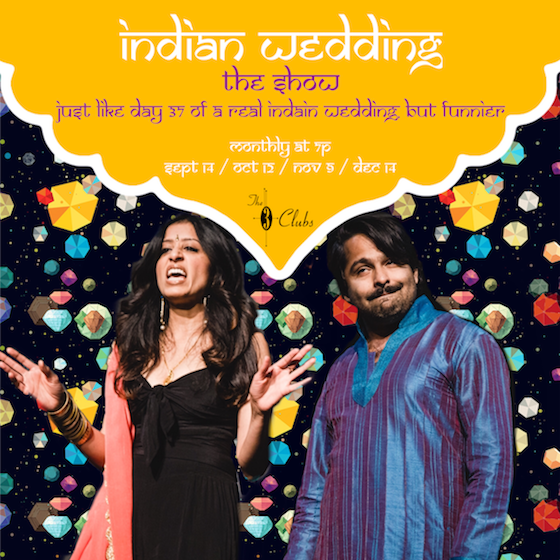 Mentions: 7p door // 730P show. $10 online or cash at the door. Three Clubs is located at 1123 Vine Street, LA, CA, 90038 – at the cross street of Vine and Santa Monica in Hollywood). More info at indianweddingla.com.