Quick Dish NY: Don't Miss Sharon Spell's 'NO BUMMERS' SOLOCOM Show 11.17 at The PIT Loft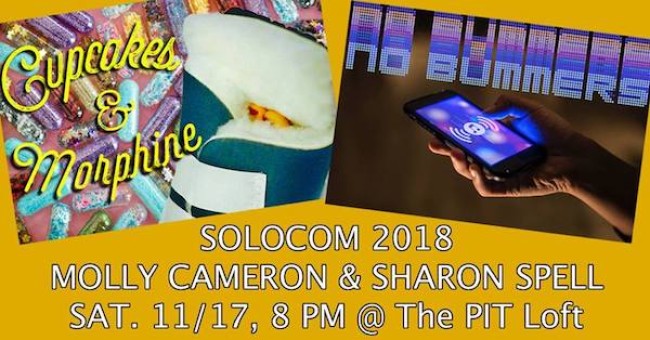 The Peoples Improv Theater's SOLOCOM fest begins this Thursday. Yes, sometimes it's a benefit to be all by your lonesome in the world. You will be able to see a plethora of solo shows performed by talented artists showing off their talents at this four-day festival in NYC. One of those shows happens to be NO BUMMERS brought to you by UCB performer and storyteller, Sharon Spell, and directed by Julia Whitehouse. She has written a new show just for SOLOCOM 2017 and would love to share it with you Saturday, November 17th at The PIT Loft. Sharon has a lot to be sad about. Her marriage ended and her parents passed away, so why would she want to laugh when she should be crying? It appears the power of the playlist will turn that frown upside down. This show is paired with Molly Cameron's Cupcakes & Morphine, where Molly's NY dreams of acting and eating cake for dinner (doesn't everyone?) get replaced by bone breaking and bed rest. Yes, it'll be double the pain turned pleasure, kids! GO!
Mentions: Show 8pm. Buy $10 tickets HERE. The Pit Loft is located at 154 W. 29th Street (between 6th & 7th)
New York, NY 10001.