Tasty News: Have Some 'Super Zesty' Laughs with KJELL BJORGEN's Debut Album "Deliver Us From People" OUT TODAY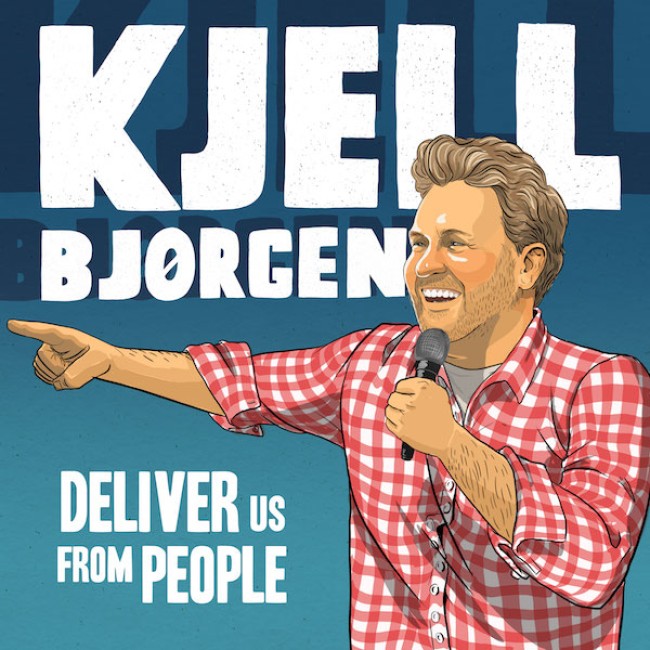 Kids, you don't know how appropriate it is that I'm posting about KJELL BJORGEN's first comedy album, Deliver Us From People, under the "Tasty News" category. Yes, it will all become very clear once you've listened to the entire album (see track 14). Kjell, which you will soon learn is pronounced "Chel," has been performing stand-up comedy around the country for nearly 20 years, and just released his first album TODAY via Blonde Medicine. Kjell was accepted into the Chicago Comedy Festival after just two year years of performing! He's performed at both The Aspen Comedy Festival and Montreal Just For Laugh Festival, been a part of the Lewis Black's Nothing's Sacred Tour, and you've seen him on NBC's Late Friday and Comedy Central's Live at Gotham. Deliver Us From People was recorded at Minneapolis' Sisyphus Brewing for a crowd that certainly delivered large on the laughs and interactive moments. Bjorgen's self-deprecating stories are the backbone of this hilarious album which only gains strength from track to track.
Having a name like Kjell Bjorgen, how can you not start off your debut album with stories about people's responses to the name that translates to "helmet" in English. (I looked it up, the data checks out.) We quickly get the picture Kjell, aka "Couch" to one confused customer, does not pine for those days as a waiter at the Bubba Gump Shrimp Company. It also becomes clear others share in Kjell's given name ordeals. On the track "Roll Call," (listen below) Kjell finds an audience member who reveals an equally unique family name that has the crowd in stitches. I'm not giving it away, but a certain vampiric Sesame Street would be proud to call this fellow his friend. Ha! Ha! Ha!
As it turns out the comedian has many other unique qualities that make his profession so much easier. Kjell is a twin, so of course, he gets into all the odd questions one receives as the identical brother of the older, more athletic engineer, Trygve (meaning "true" or "trustworthy"). We soon get the picture that being born just five minutes later set the path for future "failures and shortcomings" that would eventually pay in dividends comedy-wise. Bjorgen covers all his bases bringing the audience jokes about life as a short statured man with face dandruff who's allergic to dust mite poo and living in an apartment riddled with lady bugs (the tiny red ones you find at Home Depot). No, he doesn't shy away from talking about his stint at Jenny Craig either.
One of my favorite moments on the album has to be the "Uncle Kjell" story where his nephew has a coming of age three & a half moment. I was doubled over with laughter as Kjell explained the awkwardness of the reveal, and the "fear and anxiety" that would overcome anyone in a similar babysitting situation. Don't worry, there are even more opportunities, to laugh on the album. From failed romantic encounters to demon snores, this album is sure to please every listener, weird name or not.
Mentions: Buy the album everywhere fine comedy is found.