ICING: We Pick DAVE HILL'S Brain About The Live Podcast Taping of HISTORY FLUFFER Happening 1.24 at The Brooklyn Podcast Festival
You know, sometimes history needs a dose of embellishment and all out rebranding. Historians would beg to differ, but not DAVE HILL. The DAVE HILL: HISTORY FLUFFER podcast, which features Hill, Jim Beiderman, Chris Gersbeck and Jodi Lennon, will be having a live podcast taping this Friday, January 24th at Union Hall as part of the City Farm Presents Brooklyn Podcast Festival. In each weekly episode, the "Internet Explosion" that is Mr. Hill (The Unbreakable Kimmy Schmidt, @midnight, The Tick) shares ridiculous, first-person stories about his historical experiences, while Biderman, Gersbeck, and Lennon call definite BS on what he's relayed to them and the audience. Just some of the historical scenarios Hill has found himself in include imbibing white lines with Fleetwood Mac (in cereal shaped places), playing love slave to a feuding Joan Crawford and Bette Davis, bringing an animatronic band to play at Woodstock, that time he lived with Big Edie and Little Edie at Grey Gardens, and, of course, any opportunity to mention the film/book critic Gene Shalit. We had the honor of internet corralling the comedian, writer, and musician for just long enough to find out about the upcoming event, as well as the joys of making this wonderful podcast. Enjoy!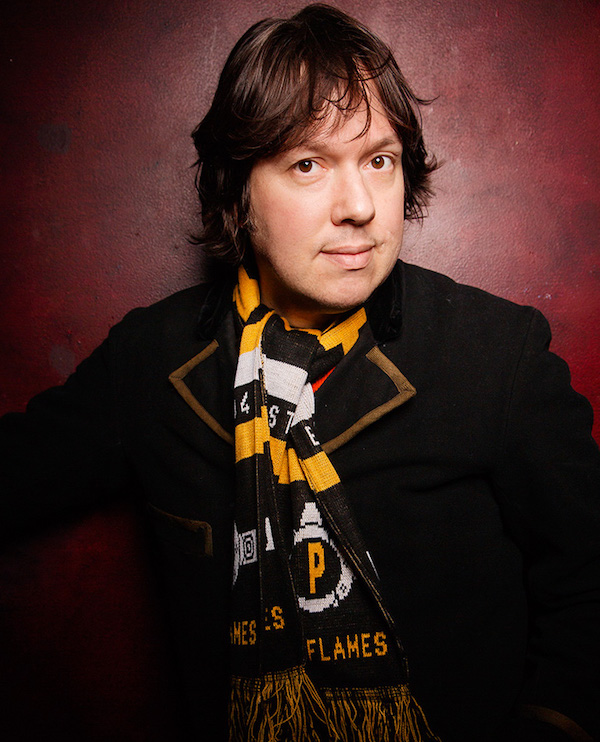 COMEDY CAKE: Where to begin?! First off, Dave, you must be exhausted from all that time travel! How DO you come up with ideas for new episodes of "History Fluffer?"
DAVE HILL: The time travel is exhausting, but it's nothing compared to the haircare and brow treatments, both of which seem nuts to bother with because it's a podcast, but whatever. As for new ideas, we just kind of toss ideas back and forth until something sounds fun. And if that idea can somehow involve Gene Shalit and/or cocaine, all the better.
CAKE: I just finished listening to "The Best of Dave Hill: History Fluffer Vol.1" and HIGHLY recommend it as a quality primer to your epic first-hand accounts of historical events. What have been some of your favorite moments taping the podcast?
HILL: Thank you! And I hate to bring up Gene Shalit again already, but yeah, any time I can work him into a story, I feel like I'm doing things right. Gene and cocaine. Not together, of course, but just in the same story. A lot. So much, in fact, that it's annoying.
CAKE: What periods in history do listeners seem to glom onto the most?
HILL: It seems that everybody, Jim, Jodi, Chris, and I included, tend to prefer that window in time between about 1965 and 1985. Or as I like to call them the "Peak Shalit Years." These are also known as the "Peak Cocaine Years."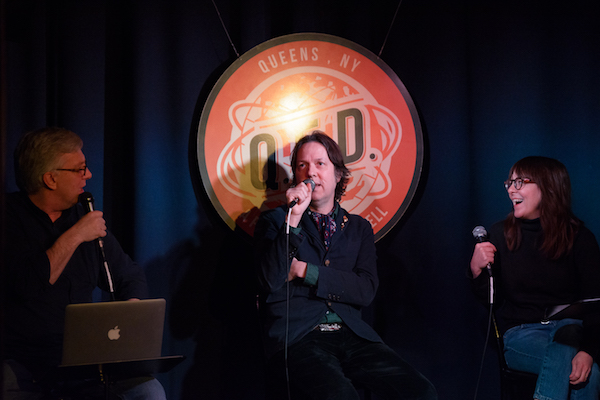 CAKE: Since you are so musically inclined, which band would you most wish to come back in 2020 to join you in a jam session?
HILL: I gotta go with the original lineup of Foghat with this one, mostly because of the music and the mustaches, but also because they used to sell (and perhaps still do) a trucker hat with the word FOG in all caps on it. No band has ever had merchandise that comes close.
CAKE: Are you (and fans) still thinking about all the stuff Chris can't eat (which was brought up in 'The Lord of The Rings" double episode)? Have fans encouraged him to try new things yet?
HILL: I have a lot of questions about Chris and I'm sure others do too. Between you and me, and whoever is reading this, I find him a very kind, funny, and delightful young man who is also deeply, deeply disturbing. As for fans encouraging new things, yes – the suggestions come in often, both dietary and otherwise. We are not afraid.
CAKE: What "History Fluffer" content can we expect for 2020?
HILL: More hot episodes and hopefully some more festival and tour dates. And I might as well say this now – we have been approached about coming to Canada. There – I said it.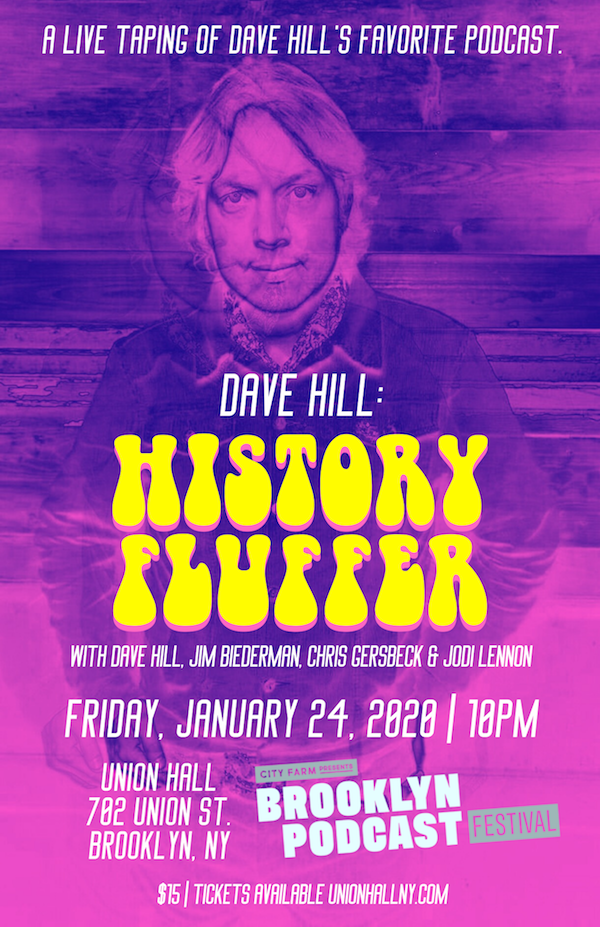 CAKE: You'll be bringing the show to Union Hall for a live taping of the podcast on January 24th. Can we get a hint of what you'll discussing? What do you love most about this venue?
HILL: Yes and we're super excited. I have no idea yet what we'll be discussing but I imagine we'll figure that out very soon, maybe even today. As for the venue, Union Hall feels like home. I've been performing there for years and I love it. It's a great space and the staff are all like old friends. And they have great food and drinks. I also love the neighborhood. In an alternate universe, I live right down the street. I mean, I don't, but hopefully you see my point. I apologize that I turned this answer into a Yelp review but here we are.
CAKE: How does the instant feedback of an audience lend to a live taping?
HILL: The audience feedback can inspire, influence, and shape the story as it goes because if they react strongly to something, we can't help but go with it because we are desperate to be liked. When we tape episodes in my apartment, I'm usually just trying to entertain Jim. His approval is the most important thing in the world to me. God, I hope he doesn't read this.
CAKE: Since you lived during all the times you cover, this question mostly applies to your pod mates. How much research do they have to do before each episode or do they go in cold?
HILL: Jim is really the only one who does significant research (i.e. Wikipedia) and is allowed to have a laptop in front of him on stage. Jodi and Chris are just encouraged to shower and show up with great shoes.
CAKE: What quote from a noted person of history would you most like to change? Please do relay your rendition for us to ponder about through the year.
HILL: As always, I go with Maya Angelou's "I've learned that people will forget what you said, people will forget what you did, but people will never forget how you made them feel." I prefer it to say "I've learned that people will forget what you said, people will forget what you did, but people will never forget if you have a light yet intriguing musky scent that lingers just long enough for them to think of you the whole bus ride home."
CAKE: Those words take the cake. Happy fluffy mustache trails to you!
Mentions: Show 10pm, Doors 9:30pm. $15 tickets now on sale. Union Hall is located at 702 Union St, Brooklyn, NY 11215, (718) 638-4400. Listen to the pod HERE. More about Dave Hill HERE. Follow him on Ig.