Tasty News: Don't Miss YOUR LATE NIGHT SHOW TONIGHT on Twitch This Friday 4.10
Raise your hand high if you are loving having every comedy show so easily accessible online? (Just assume mine is raised to the sky). This Friday, you can enjoy even more entertainment on the web with The Pack's YOUR LATE NIGHT SHOW TONIGHT hosted by actor, comedian and writer JERRY MINOR (Those Who Can't, Comedy Bang Bang, Unbreakable Kimmy Schmidt, Mr. Show, SNL) featuring guest, actor, director and talk show host JERRY O'CONNELL (Drunk History, Sliders, Stand By Me). Your Late Night Show Tonight is the monthly show where you can see your favorite comedians and celebrities host their own completely new and original talk show utilizing their own voice and POV. Yes, EVERY single episode is a fresh, one-time-only, must-see experience! I think we can guarantee Friday's show is going to be off the charts excellent with the double the Jerry talent. Be there!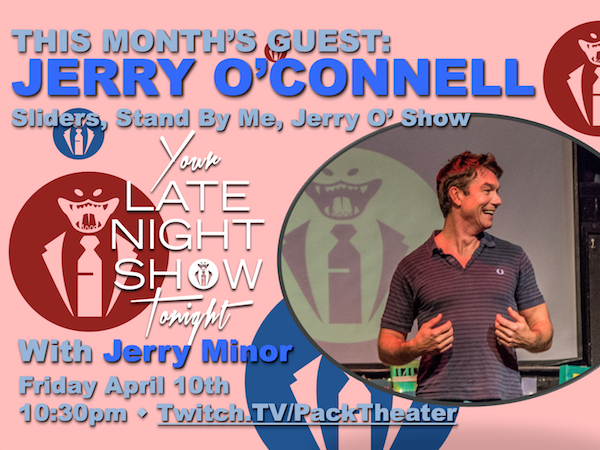 Mentions: Show 10:30pm on The Pack Theater's Twitch: https://www.twitch.tv/packtheater Twitch.tv/packtheater. All Shows are Pay What You Can. You can donate via Venmo at @pack-theater. Your Late Night Show Tonight is produced by Gil Baron (Comic Relief,) Pauline Ekholt, Dempson Juvenal and Ben Kuerschner (The Tonight Show).