Quick Dish: America, Be Sure to Check Out DAVE ROSS on Tour this Spring
Spring is upon us and that means its time for clever comedians to roam the countryside. One of our favorites, Dave Ross, former producer of the beloved HOLY FUCK. comedy show, member of the WOMEN sketch group, producer of the Two-Headed Beast storytelling show, host of the Terrified podcast on Nerdist and so much more is going on tour to a venue near you SOON.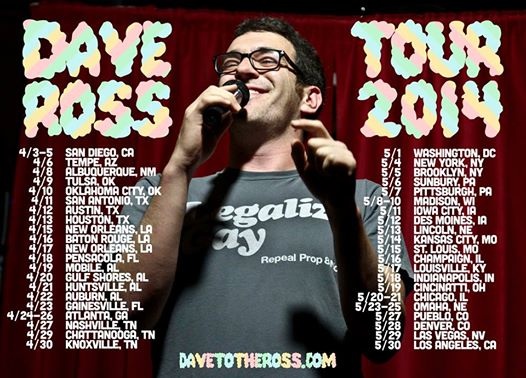 Some of the states he will be visiting include Arizona, New Mexico, Oklahoma, Texas, Louisiana, Florida, Alabama, Georgia, Tennessee, DC, New York, Pennsylvania, Wisconsin, Iowa, Nebraska, Missouri, Illinois, Kentucky, Indiana, Ohio, Colorado, Nevada and of course California. More dates and cities will probably be added so check out deets HERE. The Dave Ross 2014 Tour starts April 3 and ends in late May. GO!
This guy is super funny and tells the best stories so watch him prove it, America. Oh, and buy him a beer.
Mentions: Tour Image by Megan Baker.