Tasty News: "The Mads" from MST3K Offer Up A Second Livestream/Live-Riff of THE TINGLER August 18
Your Mystery Science Theater 3000 faves, Trace Beaulieu (aka "Dr. Clayton Forrester") and Frank Conniff (aka "TV's Frank"), have announced a livestream screening of William Castle's The Tingler on Tuesday, August 18 @ 8pm ET, with the two comedians (collectively known as "The Mads") riffing over the 1959 cult classic. The movie stars Vincent Price, Darryl Hickman, Patricia Cutts, Pamela Lincoln, Philip Coolidge, and Judith Evelyn. The Tingler tells the story of a scientist (played by Price) who discovers a parasite in human beings which feeds on fear.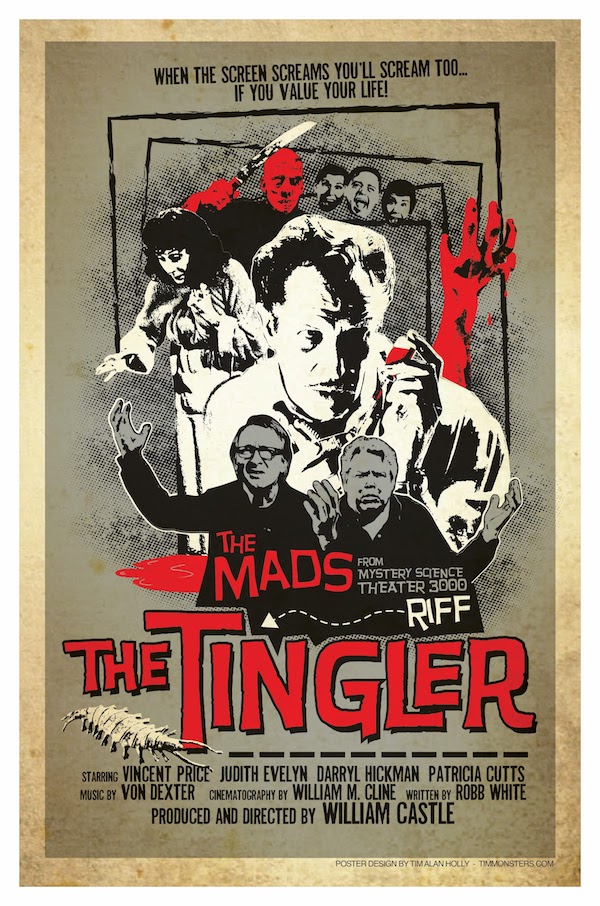 In the film,"The Tingler" has the ability to make the spine "tingle" when its host is frightened. Director William Castle, used movie artifices to sell the film, as he did with earlier horror films Macabre (1958) and House on Haunted Hill (1959). The Tingler, however, stands out for its gimmick called "Percepto!," a vibrating device placed in some theater chairs which activated those chills in unison with the onscreen action. Castle would also hire actors in select theaters to have a case of the vapors toward the climax of the film. Said "fainters" would then be carried out on a gurney to a waiting ambulance, only to return for the next showing. Now that's selling it!
August's Tingler of a good time will be Beaulieu & Conniff's second livestream. Their first was an offering of Ed Wood's exploitation flick, Glen or Glenda. (Yeah, I know, I missed that one too and am kicking myself for it.) The second livestream will broadcast live via private YouTube link that will be sent to ticket purchasers an hour before showtime. Folks who purchase a ticket can re-watch the show and download it for an at home, popcorn-filled viewing. Tickets are on sale for The Mads Are Back: The Tingler now for just $10. Oh!, the Mads will also be conducting a Q&A with fans after the screening for as long as time allows. Don't miss out on this hilarious & hair-raising event!
Mentions: Show 8pm ET. Tickets on sale HERE . A percentage of the proceeds from the event will benefit NAACP Empowerment Programs, who engage primarily in training, education, and advocacy at the national and local levels.