Tasty News: Don't Miss A New "Let's Process This" Episode Featuring Margaret Cho & Ant This Wednesday 8.19 on IGTV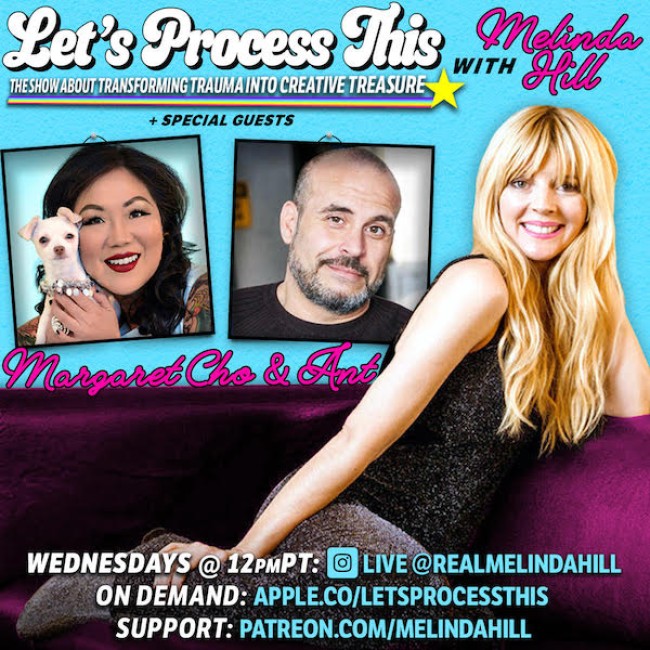 Murder hornets, mosquito invasions, fire tornadoes… there sure is a lot of crazy going on in 2020! Sometimes a human just needs to take a BIG step back and analyze those obstacles that will help them grow in the future. This Wednesday, comedian, actress and screenwriter Melinda Hill (Adventure Time, Romantic Encounters) continues her LET'S PROCESS THIS podcast series inviting to the program the Grammy and Emmy Award nominated stand-up comedian, actress, and singer-songwriter Margaret Cho and actor, comic, producer, and former host of the VH1 reality series Celebrity Fit Club, ANT (aka Anthony Steven Kalloniatis), to tell their transformation stories. The podcast focuses on getting to the meat of one's trauma and harnessing what one has learned to produce creative treasures, all brought to the audience with a dollop of humor. Tune into Melinda's IGTV this Wednesday to listen, learn, and laugh!
Mentions: Show noon PST on Melinda Hill's #IGTV. Subscribe for free at the link in her bio. Listen to more episodes on Apple podcasts. Follow guests Margaret Cho & Ant on the Ig in your spare time. You can support Melinda Hill's on her Patreon HERE.