Quick Dish Quarantine: The 50th YOUR LATE NIGHT SHOW TONIGHT! Live on Twitch 9.11!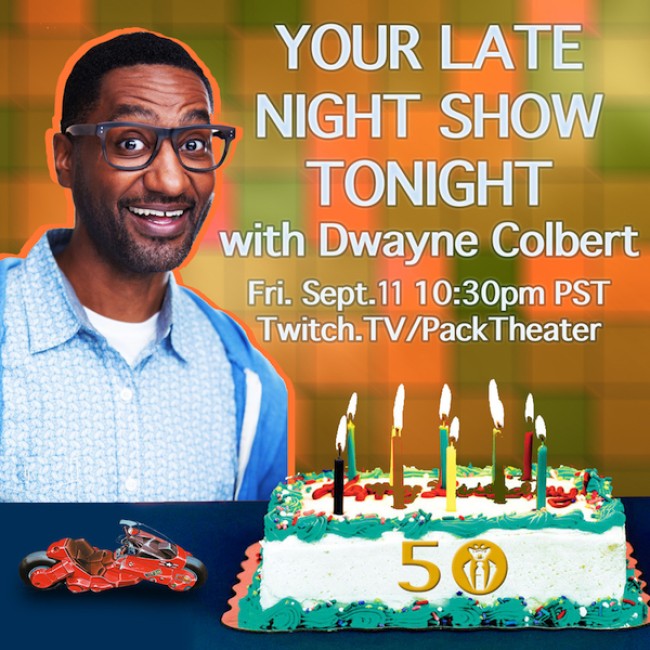 2020 can't whizz by soon enough, but along that wild ride you may want to make an important stop to enjoy THE 50th INSTALLMENT of Your Late Night Show Tonight! Live on Twitch Friday, September 11th, Emmy Award Winner, Dwayne Colbert (Second City, Nickelodeon), will host a very special monthly show where comedians and celebs host their own completely new and original talk show in their own voice and POV. Colbert is a graduate of Second City Hollywood's Improv, Writing, Longform and Directing Programs. He's written for Nickelodeon, toured with Second City, and appeared in a many a national ad. He writes, performs and directs improv and sketch throughout Los Angeles, and can be spotted at comedy festival or two. This September he will be more than well prepared to welcome Emmy Winner, comedian and musician and Your Late Night Show Tonight GUEST, Hughie Stone Fish, who you may have seen on NBC's Bring the Funny with his comedy group, Lewburger. Don't miss this chance to be part of The Pack's history (even if the rest of your time on the 3rd rock from the sun is a little more challenging). Enjoy!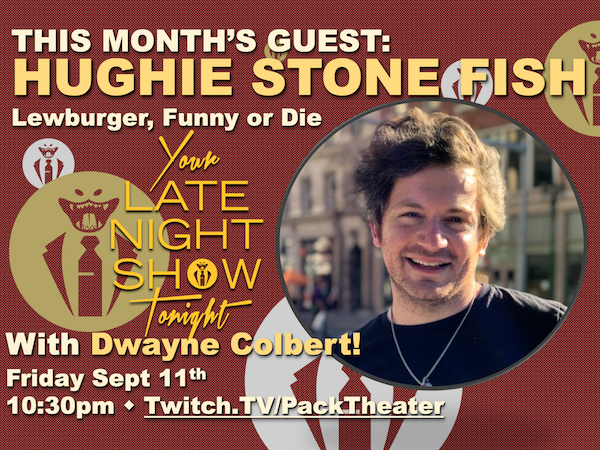 Mentions: Show 10:30pm. on The Pack Theater's Twitch Channel, Twitch.tv/packtheater. New, one-time-only, must-see show every time! All Pack Show are Pay What You Can. You may donate via Venmo @pack-theater. Your Late Night Show Tonight is produced by Gil Baron (Comic Relief,) Pauline Ekholt, Dempson Juvenal and Ben Kuerschner (The Tonight Show). Poster by @SirJakeSteward.