Quick Dish Quarantine: Voice Artist ERIC BAUZA Hosts YOUR LATE NIGHT SHOW TONIGHT! This Friday on Twitch
Emmy and Annie nominated actor ERIC BAUZA will be hosting YOUR LATE NIGHT SHOW TONIGHT this Friday, October 9th, on The Pack Theater's Twitch Channel. You will be familiar with Bauza for his work voicing a bevy of iconic, animated characters like Fozzie in the hit series MUPPET BABIES; SPLINTER in Nickelodeon's RISE OF TEENAGE MUTANT TURTLES; BUGS BUNNY, DAFFY DUCK, TWEETY and PEPE LE PEW in Warner Bros LOONEY TUNES CARTOONS. Bauza has also had the honor of voicing 99.9% of the characters in the interactive game LOONEY TUNES: WORLD OF MAYHEM. Do the voices of Granny and Witch Hazel ring a bell? Amazing!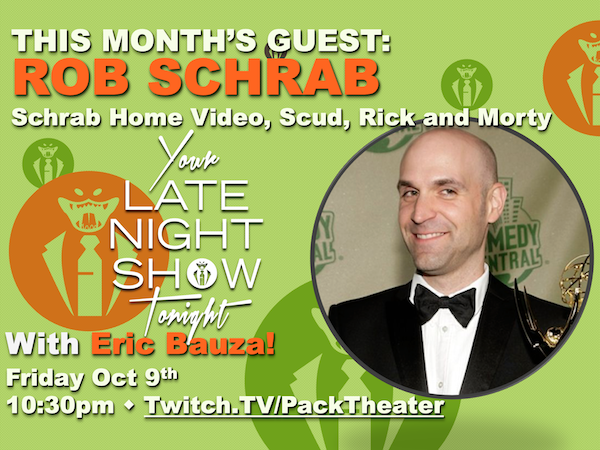 THIS Friday Bauza will host his own completely original talk show featuring esteemed artists, comic book creator/actor/comedian/producer Rob Schrab (Schrab Home Video, Scud, Rick & Morty) and actor/stuntman Derek Mears (Swamp Thing, Friday the 13th). Yes, I too could hardly contain myself after finding out who was on this month's show. Squee! Don't miss the brand new, ONE-TIME-ONLY, must-see show before it's just a bunch of 1 and 0s floating out into the ether.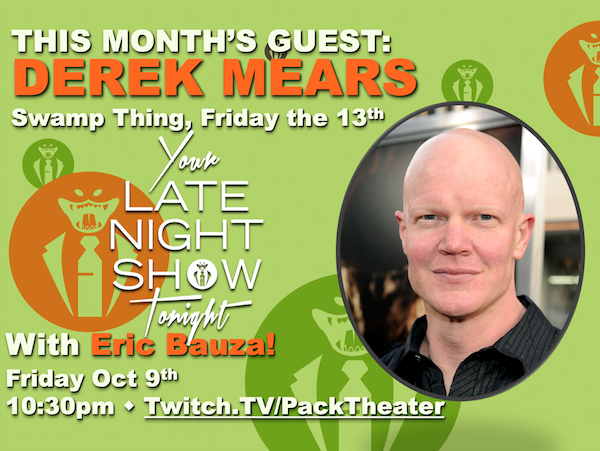 Mentions: Show 10:30pm PT. Tune in on The Pack Theater's Twitch Channel. Y Gil Baron (Comic Relief), Pauline Ekholt, Dempson Juvenal and Ben Kuerschner (The Tonight Show) are the producers of Your Late Night Show Tonight. Follow the show on Instagram. All Pack shows are Pay What You Can. You can donate via Venmo at @pack-theater. Feature poster by @kalikazoo.