Quick Dish Quarantine: 10.29 HOFF'S PUBLIC DOMAIN HORRORFEST Presents A Comedy-Filled "Night of the Living Dead" Screening ft Guest Brooke Van Poppelen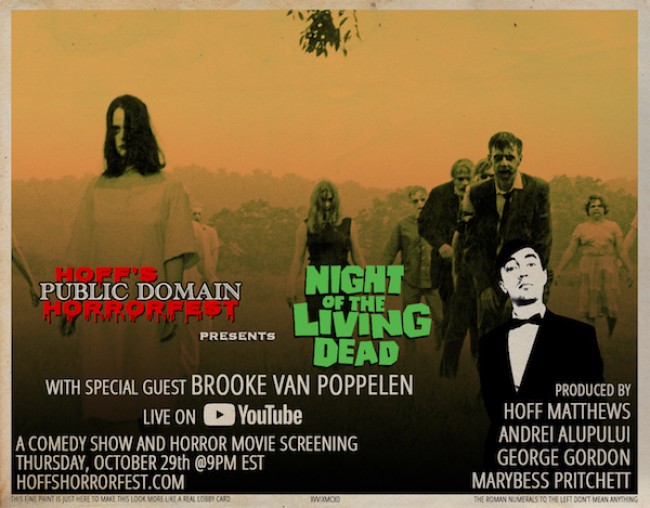 Thursday, October 29th, Hoff's Public Domain Horrorfest returns with it's final "HOFFTOBER" screening. The fifth Halloween feature will be none other than the ever popular gem of public domain horror, 1968's zombie classic Night of the Living Dead. This month's comedy show and horror movie screening will have all the new segments, trivia and games you've grown to love; PLUS, Hoff Matthews will also welcome comedian and podcast host Brooke Van Poppelen (Hack My Life, Girl Code, Side Work). You may or may not recall that George A. Romero's independent horror film masterpiece stars Duane Jones as Ben and Judith O'Dea as Barbara who find themselves trapped in a rural farmhouse in western Pennsylvania. You might say, "what's so horrible about that, I'm doing that right now?" Um, yes, but are your under the threat of an ever growing group of zombies?! Don't answer that, but do attend the virtual screening and comedy show!
Mentions: Show 9pm -11pm EST. FREE on YouTube. More info at www.hoffshorrorfest.com. Follow the show on Instagram.