Layers: The Long-Awaited, Self-Titled JERKY BOYS Album Was Totally Worth The 20-Year Wait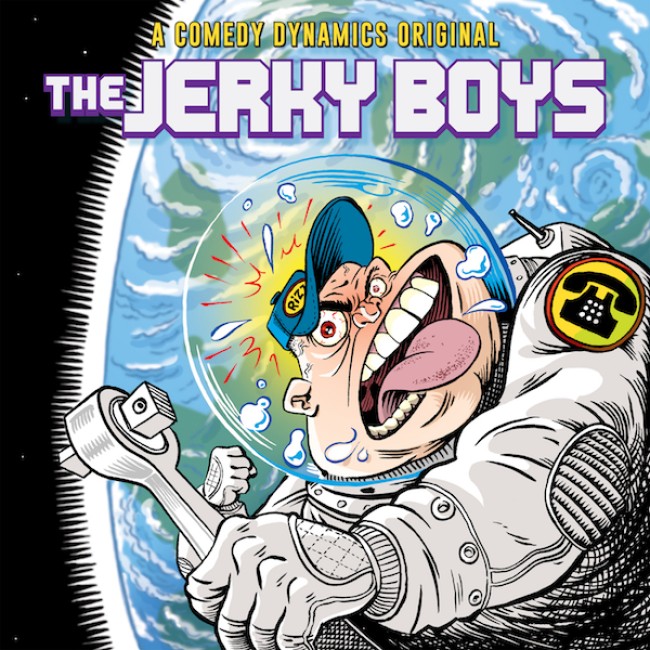 This past Black Friday, THE JERKY BOYS released their first album in 20 years via Comedy Dynamics. Yes, it's been two decades since the American comedy act from Queens, New York, was delighting listeners with a multitude of characters dialing up unsuspecting victims. The act paved the way for prank acts and programs like Crank Yankers, Punk'd, Borat and more. The group was initially made up of childhood friends Johnny Brennan (Family Guy, Space Ghost Coast to Coast) and Kamal Ahmed. After Ahmed left the act in "the aughts," the Jerky Boys forged on as a solo act featuring just Brennan, who eventually went on hiatus after the 2001 release of album The Jerky Tapes. Now he and The Jerky Boys are back and this guilty pleasure return is just the nostalgic romp we need in these crazy times. Sure, the world has changed greatly since the last album, but there will always be a need for outrageous silliness like this.
As I listened to the new, self-titled album, each track seemed like opening a mini time capsule that was perfectly built to unleash maximum impact upon a modern day audience. You will find yourself cringing at some of the antics that Brennan gets away with, but it's all in good fun. The calls target a variety of establishments including a dental clinic, stair climber customer service, a hair salon specializing in Brazilian Blowouts, the SSA, robot vacuum manufacturer, and so many more. The impersonations are spot on, and you never get the feeling the targets are on to Brennan's little games. The album features new characters and those beloved classic callers like Frank Rizzo, Jack Tors, Mike Derucki and Sol Rosenberg. Do tempers flare? Surprisingly, almost every single victim is perfectly pleasant until, of course, they are pushed to the nth degree. (I'm looking at you, potty mouth D cool!)
If I had to pick my favorites, I'd start with the very first track called Frank's Leg Braces. Confusion is at it's height as Brennan calls up a dental establishment looking for braces. Surely, having knowledge of teeth reorientation should make one qualified to fit a client with leg braces, right? Most especially one a client who's a genuine risk taker and up for platform diving and base jumping. Too good! The Garbo's track, featuring a very excited Sol Rosenberg, had me absolutely gobsmacked that, one, such saintly people still exist in the world, and, two, that the helper on the phone took soooooo long to figure out that Sol had much, much different services in mind than what the establishment was advertising. Did Debbie's helper ever figure out what was going on or is she still in a state of confusion? Only Johnny knows! Lastly, we must talk about the iRobot track. I could not stop giggling as a desperate caller pleaded with customer service to help them with a very unruly automaton. Please give that rep a job at 911 because calm and cool wins the day when a weaponized machine is out for blood. I won't give away too much, but let's, everyone, gives thanks for remote cell phone control.
Brennan may have been out of the prank game for a while, but it's clear he still has the chops to draw out major laughs. Do yourself a solid and give the gift that will have you both filled you with naughty glee while amazed at the patient souls that exists out in the world today.
Mentions: The Jerky Boys is available on all audio streaming services via Comedy Dynamics, including Sirius XM, Spotify, Apple Music, Amazon Music, Pandora, Tidal and more.