Quick Dish Quarantine: STONER MORNING SHOW'S 24-hr Holiday Celebration Starts 12.19
STONER MORNING SHOW was created in 2018 with the goal of "spreading laughter with the most ridiculous show possible," taking the familiar morning show format and inserting some completely stoned hosts to deliver it. Who knew that in 2020 it would be the kind of show we desperately need to keep spirits afloat? Starting at 10am EST Saturday, December 19th and running 11am Sunday, December 20th, the show will live stream a 24-hour Holiday Celebration. New York comedians/friends/hosts Jason Cunnius, Lex Morales, Ralf Jean-Pierre and Shawn Wickens will bring their audience "joy, connection and laughter" with guests like artisans, musicians, comedians, clowns, magicians and more (from every time zone in the world). Audience members interested in supporting the show can purchase $1 or $5 suggested donations tickets and the show will donate 20% of all money raised from the event to the Ronald McDonald House Charities. Having already transitioned to the "virtual realm of Zoom shows," this 420-friendly talk show marathon should be a breeze!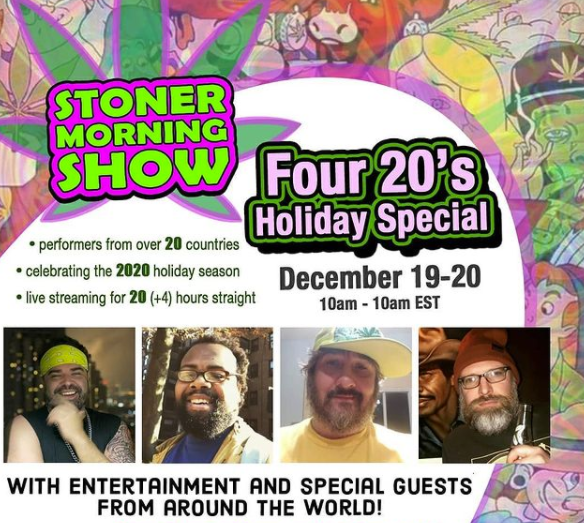 Mentions: Stoner Morning Show's 24-Hour Holiday Party will be available through their Facebook, YouTube and Twitch accounts. Donation tickets HERE. Things to look forward to: a 2021 tour of cannabis dispensaries across Canada and the United States & Stoner Morning Show's very first 48-hour live streamed event in the spring. More info at linktr.ee/stonermorningshow.